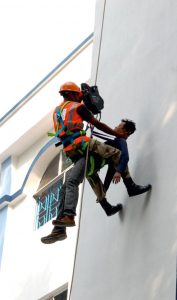 Kolkata Police has formed an elite force Disaster Management Group (DMG) in 2002 with men and ofcers from various units to meet any challenging situation in the event of natural calamities involving loss of lives and properties and damage to infrastructure. This specialised force was raised to meet emergency situation and carrying out relief and rehabilitation programmes.
The DMG started its operation with water team for rescuing bodies from water and extended its services in other specialised work areas like Tree cutting, CSSR (Collapsed Structure Search & Rescue), MFR
(Medical First Responder) teams in 2009 for meeting difcult situations. Its responsibility is multifarious including search and rescue, respond with First-aid and life saving medical relief, maintain highly motivated and trained professional and equipment to cope with the demanding situations. Its personnel are trained in various reputed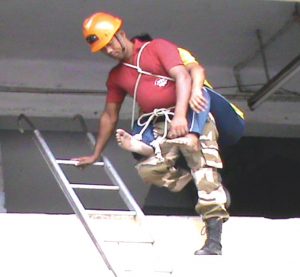 organisations in the country for carrying out different activities including re ghting, rope rescue training, chemical disaster, community based disaster management, lifesaving training for water wing, Deep diving training, handling of inatable rubber boat and rock climbing. The DMG has also received appreciation from the Honourable Chief Minister Mamata Banerjee twice for the members "devotion and dedication" for carrying out their specialised activities.
The ofcers and men have been trained from various important organisations like National Disaster Response Force (NDRF), National Industrial Security Academy (NISA), Fire Service Training Institute (FSTI), National Civil Defence College (NCDC), National Institute of Rural Development (NIRD), Indian Life Saving Society, Sea Explorer Institute, Civil Defence, Indian Mountaineering Institute, St. Jhon Ambulance, Administrative Training Institute for adopting best practices which are followed elsewhere in the world. The elite force, which is engaged to carryout difcult tasks, has four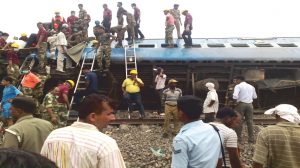 divisions- Water Wing (Deep Diving and Life Saving), CSSR & MFR Team (Collapsed Structure Search & Rescue and Medical First Responder) Tree Cutting Team and High Rise Building Rescue Team (Climbing). The DMG has curved a niche for itself by achieving good results in all kinds of operations including shing out bodies from water, rescuing trapped persons from gutted high rise or collapsed building bodies and work on the basis of a three point credo: Think Special, Act Special and Be special.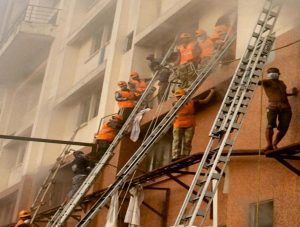 This specialised group is equipped with adequate equipments and always keeps its team in readiness. Members of the team are highly motivated, trained and professionally competent to provide relief and rehabilitation to the affected people in Kolkata and elsewhere whenever emergency situation arises. DMG has extended its service in many difcult situations in the state including Stephen House Fire incident in 2010,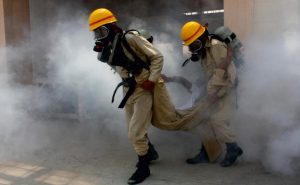 Kolaghat Boat Capsized incident in 2010, Gyaneswari train accident in May 2010, Sainthia Train accident in July 2010, Kakdweep Trawler incident in 2010, AMRI Hospital re incident in December 2011, Surya Sen Market Fire incident in February 2013, Vivekananda Road Flyover collapse in March 2016 and Jetty collapse on the Ganga at Bhadreshwar in April this year. This elite force is pressed in to service day in and day out whenever there is an emergency situation even extending its beat to areas beyond its jurisdiction.
Lt. Col. Nevendera Singh Paul
Deputy Commissioner of Police (Combat Force)