Internet is a boon for the present age, yet it brings some factors along with it which when not taken care of properly may lead to serious damage and destruction. This new medium allows people to communicate with one another, consume stuff,  and  carry out nancial transactions within a few minutes. Until few years back, teller counter of a bank to withdraw, deposit or transfer funds. But now, more and more people are opting for ATM and online banking transactions through internet facility, which is very convenient. And due to this changing scenario, antisocial elements are also trying to take the technical route to rob off bank account holders.
Earlier, many bank robbery cases in the physical form came to light. The miscreants had to plan everything meticulously, from conducting the operation to chalking out an escape route. But in over crowded cities, escaping becomes a hindrance. Thus, as more people are opting online  mode  of  transactions,miscreants are getting tech savvy as well. The following case gives a l picture of how online robbery takes place and how the cops managed to nab the culprits.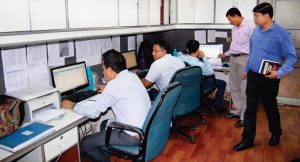 Brief Facts: Debashis Dutta, a resident  of Garia,  Kolkata,lodged a complaint on 15th February, 2012 at Patuli Police Station stating that he was robbed of INR 3.94 lacs from his SBI account. As per the complainant, he had no clue how such a big amount was withdrawn. The miscreants hacked into the internet banking account of the victim via a phishing mail and procured his User  ID  and  Password,  after which they somehow managed to get a duplicate SIM card with the same number as the victim for the OTP(One Time Password). Simultaneously, a bank account was opened with forged documents to transfer the robbed amount into that.
Modus Operandi: In this case, the victim was sent a phishing e- mail. Being not so tech savvy, Debashis Dutta clicked on it and subsequently the login credentials of his internet banking account were sent to the Nigerian fraudsters. Their associates then got hold of a SIM card with the same number as that of the victim's. They also forged  documents  to  open abank account, where the loot was transferred electronically.
Investigation: The investigation was conducted by Cyber Police Station, Kolkata  and  the Investigating Ofcer was Suman Sadhukan. After receiving the copy of the complaint, the investigating team rst traced the trail of the funds transfer to an account held at the name of Sanjay Shah. After further queries with the bank, they found out that the account was
opened at SBI Hazra branch with fake ID and address proof. Acquiring the photograph of the suspect, the police  started  looking into CCTV footages to identify the accused and came to know that his real name was, Santosh Banerjee. The CCTV footages also showed other people who were suspected to have partnered with him. After getting his cell phone number, the police nabbed him at Sovabazaar Metro Station after tracking him by tower signal locations. Several fake IDs with his morphed photograph on them were recovered from him. After interrogation, Santosh revealed the names of some of his co-conspirators and other vital information which helped in cracking the case. They were arrested from different locations at Howrah, Bhatpara and Jagatdal.
One of the arrested, Bikash Sahu disclosed the names of the kingpins of their operation who were Nigerian nationals. They hacked the User ID and Password of the victim's account. Bikash also gave the cellphone number of the two suspects Chinweoke Kingsley Egbulefu aka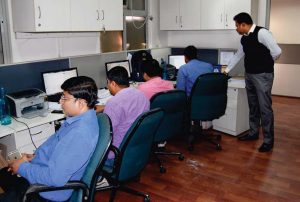 King and Okwara Chinedu Ferdinand aka Mike. The investigating team travelled to Mumbai to nab them but they didn't have any address. To pinpoint the location a trap was laid and on the instruction of the cops, Bikash called Mike on the pretext of another such job and asked for a meet up but Mike was reluctant. With Mike's location traced at Kharghar Road, the cops started extensive surveillance of the area. After three days, Bikash identied King and then he was followed to his residence. Early morning, the team from Kolkata with the assistance of Mumbai  Police, conducted a raid at the apartment where King was apprehended. Initially King refused to give whereabouts of Mike, but after thorough search Mike was arrested from the bathroom where he was hiding. The cops seized several laptops, internet dongles and sim cards from  their  possession. Their pass ports and visas were forged.
Chargesheet andTrial: King and Mike were produced at thelocal court at Khargarh and they were remanded for transit to court in Kolkata. The case was heard by 5th Judicial Magistrate at Alipore Court. Chinweoke Kingsley Egbulefu (King) and Okwara Chinedu Ferdinand (Mike) were  convicted  unders e c t i o n s of 120B/419/120/467/468/471IPC & 14 Foreigner's Act and were sentenced to three and half years of rigorous imprisonment.The accused Indians were released on bail.
By Our correspondent