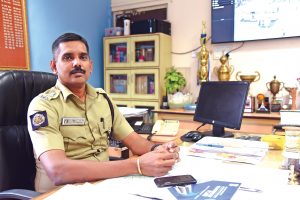 "We are trained to protect…"
And that's the motto Kolkata Police is living up to. In a candid chat with V Solomon Nesakumar, IPS, Deputy Commissioner of Police (Traffic), the importance of modern day policing is highlighted and the newest innovations to tackle the ever-changing scenario of everyday policing comes to light. Excerpts:
The Men in White did a splendid job and burned the midnight oil to maintain the festive spirit of Kolkata. Along with many other officers, you also played a crucial role. How would you like to rate the performance of your boys?
Our performance received many accolades and was highly appreciated by hundreds of pandal hoppers. As we always say Durga Puja is like an acid test for entire Kolkata Police force and as expected we succeeded with flying colours. The meticulous planning and perfect implementation always play a key role. We laid a well-knitted plan to confront impending challenges during the final showdown. We, as a force, constantly analyze the deadlocks that we have come across in the previous years and try to resolve those with latest technologies coupled with human resource management. The city starts basking in the festive spirit during the Durga Puja and this festive mood continues till Christmas. We are always on high alert and beef up the security skeleton to combat any situation.
Challenges are always unknown. Any specific strategy rolled out this year to keep the right balance in the traffic movement within the city?
Strategies always change with new plans. But I believe the precise implementation of strategy is not possible without those men and women who slog and stay on the roads for more than 23 hours during the festival days. We untangled the Gordian Knot with a simple plan. We barricaded the crowd movement and kept it separate from vehicular traffic which helped us iron out impending bottlenecks. After studying the previous crowd movement trends, we identified sensitive areas and rolled out specific plans for them. We also roped in the traffic guards, divisional DCs and the major puja organizers of those areas and backed them with additional force and civic volunteers. We also monitored the major feeding points such as the key train stations, Metro stations, and MG Road, Central Avenue, Howrah Station, Sealdah Station and we fetched good results.
Rains disrupted the festive mood of the city during Ashtami. Has that somehow created an impact on traffic management?
As a force, we always stay prepared to face any adverse situation. The sudden downpour impacted the crowd movement pattern and major puja organizers of South Kolkata such as Naktala Udayan Sangha and the pujapandals in Behala witnessed massive crowds during Navami. We identified the changing moods and immediately took adequate action.
The traffic management during the U-17 World Cup was done with panache. How were things planned to manage the greatest football event in the city?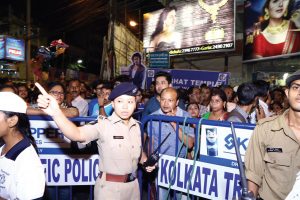 The gala football event was the milieu of some of the top-notch football stars. We handled a massive pool of professionals and a wave of football fans who arrived from different parts of the country and even abroad. We chalked out a clear and transparent plan for the event and navigated the traffic through proper signage and billboards towards their respective destinations. We created specific car parking stickers and different parking areas to segregate the traffic and we constantly channelled the information through media and Internet and VMS which helped us in managing the entire event quite smoothly. Shuttle buses plied throughout the city to ferry the spectators and specific traffic guards and junctions like Ultadanga, Beliaghata played key roles during the U-17 World Cup.
How do you think the induction of high speed bikes like Harley will benefit the force?
The law and enforcement climate of the city is changing every single day. In urban policing, we are facing newer and tougher challenges. We are combating hi-tech, suave criminals. I believe this addition to the fleet will give us a tactical advantage during a crisis.
Harley Davidson is our first choice as it complements the spirit of the force. The brand is an undisputed leader in its own league and known for its durability and honesty, which as a force we also manifest through our services towards our beloved city and its denizens.
Kolkata Traffic Police accumulated praise from different sections of society for successfully creating Green Corridors. Even the response time during an emergency has reduced considerably in the last few years. How is it that your boys are creating these success stories every day?
Our motto is to help the citizens to the fullest. We are trained and groomed to protect. Every single police personnel tries hard to handhold a person who is in dire need. We have created Green Corridors several times for critical organ transplants, also the traffic sergeants who are working 24×7 on the city roads are there to assist.
How is the force planning to face the upcoming challenges of Metro policing?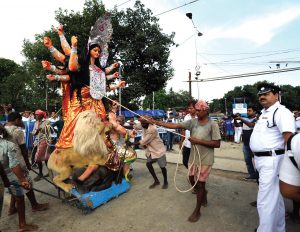 Our prime focus is on the modernization and through different procedures we are planning to strengthen our public information dissemination systems so that we can be ready to face any impending situation. For this, we will be using social media platforms widely and also multiply the number of VMS (Variable Messaging System). After an experiment, we installed three VMS in some of the key locations in Kolkata.
Soon, we will install 13 to 15 more. We will stress more on camera-based prosecutions. To curb the speed demons, we have already installed speedometers in different locations. To ensure the safety of sergeants and to reduce corruption, cameras have been dovetailed. The cameras play a key role during a situation by collecting crucial pieces of evidence. In future, we will constantly stress on technology-based information sharing and law enforcement.
As told to Subhajit Bhattacharya