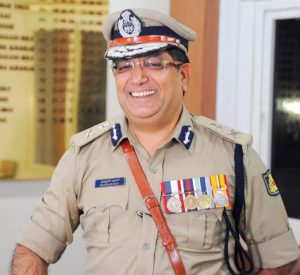 Say hello to the man behind the uniform. Here's all you need to know about Bhaskar Rao, the recently appointed 35th Commissioner of Bengaluru City Police
The city of Bengaluru got a new Police Commissioner this August, when BJP's B.S. Yediyurappa-led Karnataka Government appointed Senior Indian Police Service (IPS) official Bhaskar Rao, to the top post, replacing the serving Police Commissioner Alok Kumar. Until his new posting, Rao was serving as Additional Director General of Police (ADGP), Karnataka State Reserve Police.
An IPS officer of the 1990 batch, Bhaskar Rao now becomes the 35th Commissioner of the Bengaluru City Police. Incidentally, he is the second resident of Bengaluru and a Kannadiga to take charge as Bengaluru City Police Commissioner.
Immediately after assuming charge as Commissioner of Bengaluru City Police, Bhaskar Rao said while addressing the media at a press conference: "This is a big responsibility which has been conferred upon me by the Chief Minister of Karnataka, and I thank him immensely for having faith in me. With full confidence I state that I am ready to work and serve the people of Bengaluru. Nobody should feel unsafe in Bengaluru, and that is going to be my primary concern."
Born in Bengaluru, Rao is no stranger to the city. He completed his schooling from Kumaran's and Kamala Nehru Makkala Mandira. He joined St Joseph's College of Arts and Science for his pre-university course, and graduated with a BA from National College in Basavanagudi. Rao is an MA in economics from Bangalore University.
Rao then joined the Indian Army. He served for a year and decided to write the police services exams. He did a short stint as lecturer at NMKRV College for Women, teaching economics. After his IPS training, Rao was posted to Karnataka and has held challenging positions in a career spanning two decades and a half.
He has been accorded the President's Police Medal for Distinguished Service in 2017 and the President's Police Medal for Meritorious Service in 2008. He was also accorded the United Nation's Medal for the services rendered in International Peacekeeping in a warzone (Kosovo, Yugoslavia) in 2000.
Before his posting in Reserve Police, he was serving as ADGP Crimes, Technical Services, Forensic Lab, ADGP Canine Squad, ADGP, Directorate Civil Rights Enforcement and Mysuru Police Commissioner among other positions. His other postings include the Commissioner of Transport and Road Safety and the Director of the Karanataka State Transport Corporation.
Bhaskar Rao is a known advocate of public and non-motorised transport and is a big cycling enthusiast. In his spare time ("I don't get any free time these days," he laments), he likes to listen to classical music by veterans like Gangubai Hangal and Pandit Bhimsen Joshi. He is also an avid reader and lists Chanakya's Arthashastra, the biography of Alexander the Great and Power by Robert Greene among his favourites.
'Nobody Should Feel Unsafe In Bengaluru'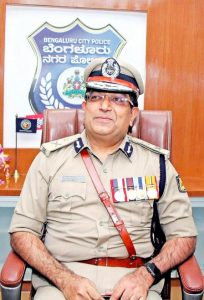 Bengaluru City Police Commissioner Bhaskar Rao outlines his vision for the police department, and talks about tackling crime in the city, and creating an atmosphere of peace and security for its residents..
Topmost Priorities
First and foremost, I want to restore the confidence of the public in the police, and empower my last constable because he is the face of the Police Commissioner. In order to do that, I have to create the right atmosphere within my own department. People should be able to walk in fearlessly and talk to me. I need not be a tough cop, beat up people and pull down things because nobody deserves to be treated like that. We want to solve problems at the earliest, rather than wait for it to grow and take on a severe form.
Secondly, there will be zero tolerance towards rowdy elements, extortion, looting and plunder. This has become a vice in Bengaluru because of the growth of real estate and money-lending. It is no secret that some policemen legitimise such activities by turning a blind eye. I am a Bengalurean first, and I will not tolerate any such illegal activity.
Thirdly, I will pull out all stops to weed out the drug menace. I don't need to show statistics to tell people where raids have been carried out. We know about the high-end restaurants and lounges where the well-heeled party and are supplied drugs. We will first warn them and then take stern action.
Bengaluru – A Safe City For All
Bengaluru is a ceaseless magnet for its huge migrant population from other states as well as other districts of Karnataka. Many people come here to study or work as they believe Bengaluru is a safe city to live in. We will ensure it remains so by creating a secure atmosphere. It is my duty to ensure the safety of all citizens, including migrants. We Kannadigas are well known for our hospitality and kindness. Nobody should feel unsafe in Bengaluru. That is our main intention.
Crime Busting
We will register cases, investigate and punish criminals, and deliver justice to the oppressed. In many places, goondagiri, extortion and hafta collection has become a big menace. We are going to clamp down with a very heavy hand on the anti-social elements who are involved in such activities. Strict action will be taken on criminals who have created a wave of fear among people. Our priority is to ensure that all citizens live in peace and safety. My message to the people is very clear – the police department is with you. Go about your work fearlessly and do not hesitate to come to us if the need arises.
On The Spate Of Police Raids On Parties
I welcome healthy and responsible partying till late night. I am totally against raiding and harassing people without reason. Conducting raids, blocking entrances, and forcing people to run away, is not something that we will do. The city's work culture is to work hard and party hard responsibly. We do not wish to trouble normal citizens who want to enjoy life. But as for those who indulge in Illegal activities, I assure you – we will take very strict action as per the law.
Communal Harmony
Maintaining communal harmony in the city also ranks high on the agenda. We will embark on a community outreach in order to make policing more people friendly. Our real test lies in making all sections of the society believe that the police is approachable to all. Our doors are always open we are available around the clock to address any grievances whatsoever.
Cracking Down On The Drug Mafia
There are many challenges for the Bengaluru Police but none as daunting as the drug menace, which is rampant across the city. The drug culture has spread to schools and colleges and needs to be rooted out before it's too late. Sadly, even young college girls have fallen prey to the drug and prostitution rackets in the city. So ridding the city of drugs is my top priority. The police cannot do this by itself. We need to partner with all the education institutions in the city as well as parents of the children if we want to get rid of drugs permanently.
Let me say this – I will not hesitate to book hostel wardens and college principals in this regard if their involvement is proved. I am not interested in the last mile. I am interested to know where drugs are coming from. Cases are falling apart because we do such a shoddy job. I will book criminal cases for negligence against officers who don't do their duty, and even dismiss them if necessary. It is high time fear is instilled in the mind of the police because they have taken things for granted.
I have directed my officers to send out a warning to restaurants, bars and lounges that supply cocaine and put the fear of God in them. Even if a gram of cocaine is found, we will book them under the National Drug Prevention Alliance and shut down the establishment.
Empowering Police Personnel
Empowering police personnel is key focus area for me. The last constable of the city is also the Commissioner when he is interacting with citizens. He cannot be taken for granted, beaten up or assaulted. This will not be tolerated. He is my representative, wearing a uniform whenever I am not there. Good, clean environment for a very objective leadership is vital. Even a constable should feel like a leader while discharging his duties in Bengaluru. That is the kind of atmosphere we want to create.
Clean Administration
Most importantly, we are going to create a very clean and honest administration. No one should have any reason to point fingers at me or my officers. No higher power will pressurise or influence my department not to perform our duty or not to assist the public. I will ensure that I have a good core team that in any circumstances will freely accept people's complaints and register cases against those harassing them.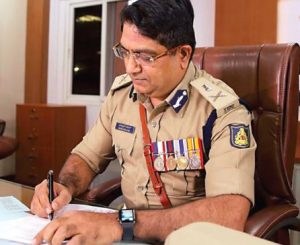 I want to provide a transparent and result-oriented administration. People are free to criticise me on any media platform if they feel I need to perform my duty differently. You can call me on my government number, my private number, my office number or home number. I am also available on social media. You can be merciless in your criticism if you wish. We are always there to clarify something if something goes wrong. My officers and I stand by our commitment because we love Bengaluru, and we want to make Bengaluru a great destination for all.