In an initiative to curb crime against senior citizens in the city, Pune police has constituted 44 WhatsApp groups with more than 1500 senior citizens enrolled in them. The groups will have dedicated police officers who will receive complaints about harassment. Through the messaging groups, the police also intend to encourage citizens to come forward and lodge complaints since they realize that many crimes are going unreported.
Attacks on senior citizens are now reaching a peak as the robbers and chain snatcher find it easy to loot them. Several cases of robbery at houses of senior citizens besides chain snatching and looting were reported during the past couple of months. Understanding this situation, city cops have decided to act on a big scale as the senior citizens are an integral part of society and should feel free to roam and travel. Tapping into the popularity of Smartphone messaging apps, the Pune city police have created groups to reach out to citizens directly. The groups will be used to spread advisories and information on crime

trends as well as to collect information on local criminal activity. Till now cops have created 44 groups and are in touch with more than 1500 senior citizens. Pune-Pimpri Chinchwad consists of 39 police stations under their jurisdiction. After the order issued by the city police Commissioner Rashmi Sukhla, the cops have asked senior citizens to get them registered at their local police stations so that they can help them in any tough situation.
"The senior citizens are getting themselves registered at the police station. We are also providing them a WhatApp number so that they can communicate with us whenever they are in need," said Joint Commissioner of police P R Patil. 'This group includes constable and senior police inspector, whereby if a senior citizen is facing a problem or harassment or has been victim of any crime, he or she can update their complaint and accordingly action will be taken on the accused', he added.
"Area-specific crimes and common modus operandi will be discussed in the groups. For instance, the common crimes of conmen posing as cops and duping walkers out of their valuables are witnessed. Photos of habitual offenders could be shared," said a senior officer. "The groups can also be used to dispel rumours in real time." Advisories on avoiding cyber fraud (by keeping credit/debit card details safe) and chain-snatching (desist from wearing gold ornaments while walking on the street) will be shared with instances of such offences.
The inspector moderating the group will post messages after they have been vetted by the area's assistant police commissioner. Group members have been instructed to not post offensive or communal messages. They are allowed to forward the police messages to other groups.
Through the messaging groups,the police also intend to encourage citizens to come forward and lodge complaints since they realize that many crimes are going unreported. "We will monitor the conversations. At a later stage, we mean to archive the conversations," said another officer attached to Pune city police.
"WhatsApp was chosen because it is available across mobile phone platforms. Depending on the response we get, we will decide whether to create more such groups and whether to confer moderator powers on sub-inspector rank officers as well," the officer added.
The Pune city police are also planning to set up a mini control room in the commissionerate office which will have a helpline number(020-26111103) or (100). The senior citizen of the city can call on this number and get an immediate feedback from the cops.
"Considering the potential of social media in sharing information and improving police-public interface, WhatsApp groups have been created in all police stations of Pune city for sharing information," police said.
The advantages of the system include senior citizens being able to send complaints without leaving their residence and instant passing on of crime awareness information to the public, it said. There are a number of rather simple precautions seniors can take to keep them safe. Having lived this long, don't let simple preventable accidents spoil your quality of life, is what police advice the elderly.
Seniors Inspecting the Home and Make it Safe
Just as you clean the house regularly, it will pay off to inspect your home for safety problems. Here are a few of the things you can look for:
1. Locks should be in place on doors and windows.
2. No hiding places for keys –someone watching can see you get the key.
3. Use an alarm system, smoke detectors, fire extinguisher and carbon monoxide detector.
4. Install a peephole on front door, and see that area is well-lit.
5. Answering machine should say"we" even if living alone.
6. Organize electric cords so they will not cause tripping, putting by wall and/or behind furniture.
7. Steps must be kept clear to avoid falls. Paint edge of steps to help with visibility.
8. Avoid storing things on the floor to prevent falling.
9. Avoid area rugs as they are known to cause falls.
Seniors Give Special Attention to Kitchen Safety
1. When finished with a meal or when leaving kitchen, develop a routine of walking around the kitchen after each meal, doing a safety check for turning burners and appliances off.
2. Clean up any spills on floor immediately to avoid falls.
3. Unplug unused appliances.
4. Use timers and buzzers loud enough to hear from another room. When timing, do not turn on radio, TV, or earphones as they can keep you from hearing timer. You could stay in kitchen reading while waiting on a timer or carry a timer with you in your pocket.
Older Adults Practicing Habits Which Keep Them Safe
1 Use your deadbolts and locks –they won't help if they are not used regularly.
2 Leave spare key with a trusted neighbor you know quite well.
3 Don't be predictable; change things up so someone watching stays confused.
4 Befriend your neighbors; they will look out for you.
5 Never share personal information on phone or in public: schedules, last name of self or friends, or say you won't be home at a certain time or day(that invites burglars).
6 If you have an electric garage door, do not unlock the car door until garage is completely shut.
7 As you drive or walk up to house, glance around before you turn into the driveway to assure no one is nearby. If you see something amiss go on by and seek help.
8 Carry a cell phone when in or out of the house. Have important numbers in phone's memory for quick dialling.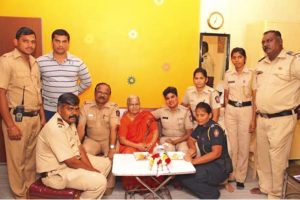 Seniors Staying Safe Going Out and About
1 Be sure someone knows where you are going and approximately when you should return, especially at night.
2 Ask security or trusted friend to walk you to your car (which you parked in well-lit area).
3 Avoid ATM's, especially if in closed-in area, someone is close around, or at night. (If a car or person is nearby, drive around the block till they're gone and try again.)
4 If walking, use a buddy system by walking with another person or persons.
5 Leave valuables and anything that might look like a purse or valuable in trunk to avoid theft.
6 Use fanny pack or similar device or front pockets only to avoid valuables dangling in purses or in a back pocket.
7 Limit credit cards to one if possible,and have the number to call if stolen clearly findable.
8 Avoid uneven surfaces when possible. Use walking stick or cane as extra caution when you must walk on such places.
9 Carry at least the minimal medical and emergency information with you at all times.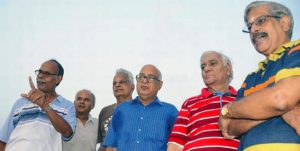 Majority of the offences committed by the persons are known to the victims – servant, watchman, craftsman etc. These criminals are generally not on police record. Database of elderly people staying alone in the jurisdictions of various police stations are compiled but this effort has met with poor response. Servant's information are not provided to the police due to fear of losing the servants.
Mumbai Police with the help of Dignity Foundation, AGNI (Action for Good Governance and Networking in India) and Federation of Senior Citizens Organisation of Maharashtra are making efforts in motivating senior citizens in this regard.
DO'S AND DON'TS FOR YOU:
Employ a servant after verifying his real name, native address with the help of the nearest police station or through the security wardens of Dignity Foundation and AGNI.
1. Never discuss financial matters in front of your servant
2. It is always safe to deposit your valuables in safe deposit vault of any bank
3. Treat your servant in a humane way.
4. Do not allow any of the relatives or friends of your servant to visit your house. If at all he has any frequent visitor, get his antecedents checked from police and try to keep the number of such persons.
5. Make your neighbour know about you staying alone. The Housing Society also needs to know this. Use of modern security gadgets is always advantageous. Door alarm, electronic eye bell etc. is available in the market. Consult the professionals in this regard.
6. Install a peephole in your front door and always check the identification of strangers before you let them inside your home.
7. Never leave spare keys in open or in the conventional hiding place.
8. Verify the identity of any repairmen. Use the telephone number listed in the phone book, not the one suggested by them.
9. Inform your society about the unacquainted visitors, so that their identity could be checked at the very gate of the society.
10. A well-designed electronic alarm system attached to the office of your Housing. Society or to the watchman's cabin would be advisable so as to send alarm signals to all simultaneously.
11. When you admit a workman or a salesman, do not leave him alone at any time.