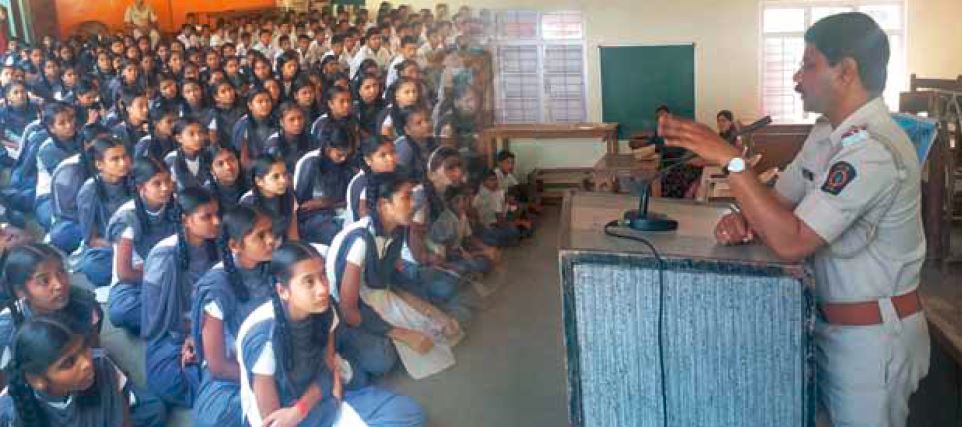 The year was 1961. The day – January 2. A Red Letter Day for Maharshtra Police  as it was on this day that the then Prime Minister of India, Jawaharlal Nehru, presented the Police Flag, as a symbol, to the State Police. To mark this significant occasion, the day has since been celebrated as Maharashtra Police Raising Day.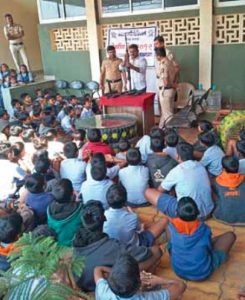 Most police stations across the State celebrate it by conducting week-long, police-public contact programmes. Anti-drug campaigns, awareness camps, training on self-defence techniques, imparting knowledge on technical aspects of using weapons in the police armoury to school students and citizens form a part of the celebration.
Police personnel also celebrated the week by commiting  themselves to improve conviction rate through improved supervision and monitoring of crime investigation and prosecution. During this week, the cops highlight the commitment of the Force to provide a safe and secure environment to the citizens of Maharashtra. They especially emphasize on providing a secure environment for women, senior citizens, minorities and underprivileged.
Police units are directed to host programmes to increase police-community connect. The programmes organised are as follows:
Rally on women safety by college students, plays on women safety, self defense programmes for women. For these programmes, support of NGOs and universities can also be undertaken.
Visits by school children to various police stations. They are encouraged to interact with Police Stations-in-charge. Students are familiarised with police weapons and other articles of interest and curiosity to them.
Band displays and street plays at public places on security related issues.
Special drives to return valuable 'Muddemaal' to the complainants after completing legal procedure during this week.
Seminars of interest at Unit Headquarters for community stakeholders in which various sections of the society can participate.
A Report from Various Police Stations
Police officers from different police stations organised several events with the support of the public and also participated in them…
Arnala and Waliv Police Stations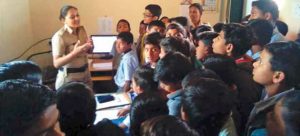 The Arnala Police Station launched a banner on drug awareness and road safety. A team of police officers educated the students of Dr. D.G.Garvankar School on road safety norms. Observing road safety and imparting knowledge about it, especially to children, is very important since they are the future drivers. An anti-drug rally was also conducted with another school and a college in the jurisdiction.
Nalasopara and Vikramgad Police Stations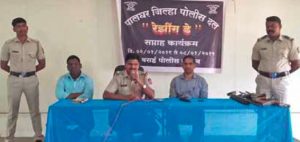 Nalasopara Police Station conducted a meeting with local senior citizens along with the Mahila Dakshata team on 'Crime Against Senior Citizens.' "Senior citizens are easy targets for robbers. We guided them on tackling such scenarios. We also plan to conduct short interval meetings with them," said a police officer from Nalasopara Police Station. The officials at Vikramgad Police Station met the Adivasis in their jurisdiction and guided them on measures to deal with any tough situation.
Dahanu and Satpathi Police Stations
The police personnel of Dahanu Police Station invited the students of H.M.P High School and explained to them about the role and functions of a police officer. "We invited the students and explained to them about the working of a police station. They were also shown arms and equipment, and their usage during a riot," said a police officer from Dahanu Police Station. The police officers also explained the importance of road safety and asked the students to follow traffic rules while driving. Satpathi police personnel also conducted similar programmes with school students in their jurisdiction.
Tulinj and Vasai Police Stations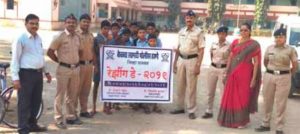 Officers at the Tulinj Police Station conducted a rally along with local auto drivers, local municipal bus drivers, and hawkers from under the overhead bridge till Taki Road. A meeting was then held by the officers in the same area to educate the above groups about the importance of road safety, safeguarding themselves from drug peddlers, kidnappers, extortionists, molesters etc.
Vasai Police visited New English School, G.G. College, etc. and explained to the students about the functioning of a police station and the role and responsibility of citizens. The police also displayed their arms and equipment and guided them on tackling cyber-crime, molestation of women etc.
The event was also celebrated by Palghar Police Station where road safety, awareness on cybercrime, and cop-community relation was stressed upon.
Citizen Talk
"I have been witnessing Police Raising Day for the last two years. Police officers arrive at our college premises and guide us about road safety. They provide us with guidelines to follow to safeguard against cyber crimes and molestation," says Rakesh Singh, Viva College, Virar.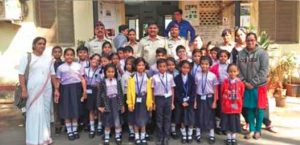 "I have seen police weapons only in movies. On Raising Day, we were invited to Waliv Police Station where I saw actual weapons in real time. The feeling was indescribable. The police personnel also educated us about precautions to be taken regarding road safety, and they guided us about the do's and don'ts of cybercrime," says Deepak Mohite, Student.
"On the occasion of Raising Day, a rally was organised by Arnala Police Station. The focus was on drug awareness and road safety. The police officers urged the citizens to inform them about any illegal activity in their area, as citizens support is of utmost importance," said Mugdha Jadhav, Student.
by Mohit Naik