A shocking incident has come to light under the jurisdiction of Nalasopara police station where the cops have successfully arrested three accused for allegedly murdering a 55-year-old. According to cops, the accused were contemplating two more murders. On Oct 28th the local cops found a semi decomposed body of a 55-year-old man at Hanuman Nagar, Sai Star building. After postmortem, the cops confirmed it to be murder and registered a case under section 302, of Indian Penal Code.
Investigation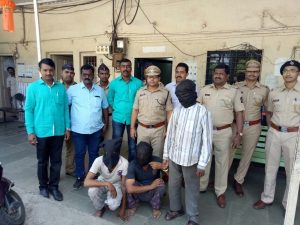 A team of police officers was formed to look for the accused. "During investigation, we found that the deceased, who was later identified as Safat Ali Agar Ali had visited Nalasopara to rent a flat. With this lead, the local estate agents were questioned and the CCTV footage of the local area was analyzed where we found the deceased with two other people accompanying him, said a police officer attached to the investigation team. Later, with the help of the mobile phone of the deceased, we laid a trap and arrested three people from Mankhurd area who had a regular chat with the deceased since past two weeks," the officer added. During interrogation, the arrested accused who confessed to the crime were identified as Deepak Vishwakarma aka Langda (45), Vijay Chauhan (32) and Rohit Prajapati (32).
Cops talk
The deceased, Ali along with the arrested accused used to stay at Mankhurd slum area and was a scrap collector by profession. Ali was also involved in human trafficking and used to supply young girls to Aamir (name changed) in exchange of money. The accused planned to loot Aamir and kill him but they knew that Ali won't accept their plan; hence he had to be eliminated.
"With this plan, on Oct 25th the accused accompanied Ali to Nalasopara and showed him a flat in Hanuman Nagar and later rented the flat. The accused then spiked Ali's drink, strangled him to death and fled from the spot," said a police officer from Nalasopara police station.
"The arrested accused also confessed that they had a planned to loot and kill Aamir and Prem Kumar on whose identity details they had purchased the SIM cards. The arrested accused have been booked under relevant sections of IPC," he added.