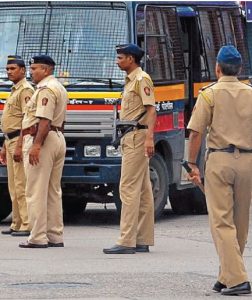 In a double slap to errant motorists, Mumbai police and traffic cops will work in tandem. Joint Commissioner of police (Law and Order) Deven Bharti has authorised all police stations across the city to conduct a parallel drive along with the traffic police department to curb traffic violators. Earlier only traffic police was responsible to frame charges under the Motor Vehicles act. But soon you will find the khaki uniformed men also on the lookout for traffic violators. The decision has been taken to ensure better enforcement of traffic rules in Mumbai.
With strength of a meagre 3,300 constabulary, traffic police used to find it difficult to keep an eye on all violations. In a notification last week, Bharti empowered all police stations across the city to carry out parallel drives whereby police officers can also book motorists for traffic offences.

Bharti has been quoted in a daily newspaper as saying, "The police team carrying out these drives will be accompanied by at least one traffic personnel." Officers of Mumbai Police said that they had received orders from the Joint Commissioner to penalise errant drivers under the by-laws of the Maharashtra police manual.
"Based on these bylaws, we are now authorised to penalise any person found guilty under the unlawful activities. We will be accompanied by a traffic policeman while conducting our additional duties", said an officer.
If statistics are to be believed, Mumbai police has a total of 50,000 strong constabulary, while traffic department has 3,500 staff of whom 3,300 are constables and the rest officers.
Now Mumbai police can fine drivers for traffic violations such as riding motorcycles without helmets, not wearing seat belts, jumping signals or indulging in drunken driving. "This is definitely the best move by the city cops, understanding the rising number of traffic violations and lesser number of police officer in the traffic department. This parallel drive will be helpful to control traffic and also curb violators", said Prakash Sharma, a journalist.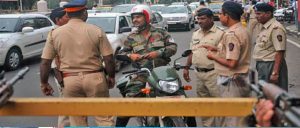 "The Regional Transport officer should be asked to accompany the traffic police in such activities. Since crime in Mumbai is also at its peak, city police need its personnel to be doubly quick and effective in handling the additional duties", said Siddesh Naik, a student.
"It is a good move and will keep in check rash drivers and traffic violators. They drive recklessly and cross dividers. More police officers on duty will also ensure road mishaps are avoided," he said.
In  March,  the  then  traffic  police chief wrote to his deputies asking them not to demand Pollution under Control or vehicle insurance papers. He said, "There have been various instances of motorists and traffic police personnel getting into an argument. This is affecting the image of the traffic police."
"It was one of the much needed steps as the strength of the traffic police is very less and also the number of incidents of attack on them had increased. If the traffic cops get the help of the city police they can tackle such situations quite easily", said Pramod Samant, a Corporator.
Attack on Traffic Cops
In October 2016,a traffic police constable was allegedly assaulted by a biker near Juhu Chowpatty. Rakesh Garud, 45, attached to the Vakola traffic division, fought with 23yearold Amit Rajput, who was stopped near a barricade for a routine check. Garud suffered injuries to his face and back after Rajput hit him.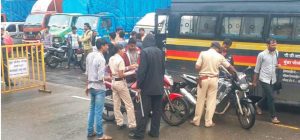 In September 2016, a woman police constable at Vile Parle was allegedly slapped and kicked by a woman whom she stopped for riding without a helmet. The police also arrested the woman's brother for verbally abusing the constable.
In June 2015, a traffic police constable was assaulted by a group of four men after he tried to intervene in a fight between them in Malad (West).
In August last year, traffic police head constable Vilas Shinde caught a minor who was riding a bike. The boy's brother, Ahmed Mohammad Ali Qureshi, 20, reached the spot and assaulted Shinde with a wooden stick. Nine days later, Shinde died at Lilavati Hospital in Bandra (West).
By Mohit Naik