We often hear about naxalite attacks in the Gadchiroli district of Maharashtra. These frequent attacks are a challenge to the men in khaki. Recently, the naxals targeted a police vehicle in the Ghadchiroli area, triggering an IED blast resulting in 15 commandoes being injured.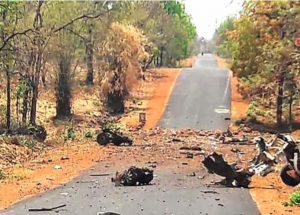 Gadchiroli district was created on August 26, 1982, following the separation of Gadchiroli and Sironcha from Chandrapur district. Gadchiroli is surrounded by Chandrapur district on the west, Gondia district on the north, Chhattisgarh on the east, and Telangana in the south and southwest.
For the betterment of local citizens, the district police have been operating in different modes with different units under its jurisdiction. Each unit is designed in such a way that it can respond to any tough situation.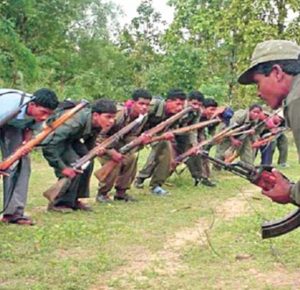 The Gadchiroli police headquarter located at Gadchiroli maintains the reserve police force for guard duty, escort duty and other regular duties. Basic police training sessions are conducted from time to time. In case of any law and order problem, the police headquarters put the reserve police force into action to handle the situation. The Reserve Police Inspector at the headquarter manages discipline& training, canteen, stores, arms room, building maintenance, quarter guard and magazines which are under the observation of the Deputy Superintendent of Police, and Superintendent of Police.
Divisions and Units in Ghadchiroli Police
Naxal Cell
In view of the mounting naxal attacks in the district, local cops have set up their own naxal cell to track their movements periodically. Naxal Dossier and Naxal Crime Branch work under Naxal Cell Main Branch. Another branch updates naxal profiles each year. When a naxal is arrested, his history is searched with regard to participation in other naxal cases, source of financial support, and the  number of people injured or killed by him.
Control Room
The Police Control Room controls the activities of the Police Department all over the district. It connects all Police Stations (PS), Sub-Police Stations (SPS) and Armed Outposts (AOPs) in the district. It is in contact with all police stations in the district at all times. It also plays the role of communicator between field staff and controlling authorities at all levels. It ensures proper execution of law and order. During critical situations and in the absence of senior officers/unit commanders, the Control Room Officer has to take decisions and give directions to the officers present on the spot. If required, he has to dispatch forces to assist the police officers. He also promptly communicates important events to the Unit Commander, other senior officers and the DG Control Room.
In case of any law and order problem, accident or territory movement, citizens can also inform the control room on the emergency number – 100. The  Control Room then takes necessary action, and if required, sends a force right away.
Local Crime Branch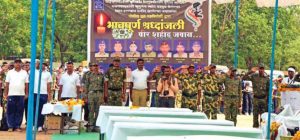 This branch is of prime importance in the police department. It is involved in major criminal probes and sensitive crime detection. The staff of LCB is very intelligent and brilliant in crime detection. The branch performs parallel investigation with police stations on major crimes. LCB is responsible  for maintaining records of crime and criminals. It has the following sub-branches:
Crime Record Bureau (DCRB)
This branch collects and maintains crime and criminal information from all police stations in the district and sends it to the State Crime Record Bureau (SCRB), Pune, when required.
Anti-Dacoity Squad (ADS)
This branch prevents/detects property-related crimes, mostly dacoity and robbery offences. The ADS at Gadchiroli Police Station is one of best crime detection teams of Maharashtra.
Modus Operandi Bureau (MOB)
This branch collects information on the modus operandi of criminals and maintains records like Known Criminal Register, History Sheet Register, Convicted Persons Register, and MCR. The information helps the investigating officers in nailing the offenders likely to be involved in offences.
Finger Print
This branch collects and maintains fingerprints. Experts visit the crime scene and take prints. They examine the fingerprints of arrested accused and provide the identical fingerprint from the database to the investigating officers.
Anti-Human Trafficking Unit
This branch conducts raids against rackets of prostitution and human trade. It also maintains data of missing children.
Economic Offence Wing
The branch handles cases of cheating and financial frauds.
Bomb Detection and Disposal Squad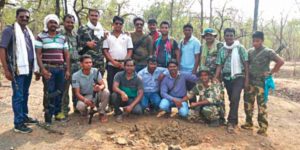 The Bomb Detection and Disposal Squad (BDDS) was established on November 25, 2005, in Gadchiroli District Police Force at Headquarter Gadchiroli & Sub-Headquarter. The Squad team comprises of experienced police officers and technicians who work on the field. They have experience in searching, detecting  and defusing various IEDs and land mines planted by naxals. Anti-sabotic checking is done by this Squad for VVIP movements, road opening, etc.
This Squad also provides and conducts training and seminars to police officers and employees regarding IEDs, landmines, etc. with the support of case studies. They are given directions about procedures to be followed in case a  suspicious item is found during naxal operations.
District Special Branch
District Special Branch is very important in the structure of the district police organization. The Branch plans and designs the arrangements during festivals, elections, examinations, VIP and VVIP visits in the district, and co-ordinate the same with the police stations.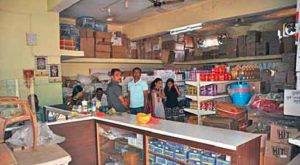 The Branch collects confidential information in advance regarding activities of various organisations, and movements and activities of various political parties. This information is then analysed and the input is sent to the State Intelligence Department (SID) and police stations concerned. The Branch also deals with character verification, passport verification, noise pollution, and recommendation of various licenses.
Important Responsibilities of District Special Branch:
Intelligence collection and analysis.
Checking sensitive (vital instalment) areas in the district.
As per the Indian Secret Act 1923 c 8(1), plan the restricted area for the city and district from the appropriate authority and hand it over to the Government.
Regular audit of explosives and magazine stores.
Gathering information about foreigners visiting the district.
Investigation of underground foreigners.
Character verification and passport verification.
Gathering information about hunger strike, self-immolation cases.
Maintaining law and order during morchas, strikes etc.
Planning security arrangements for VIP, VVIP and important persons.
Election and mega festival security arrangement.
Keeping watch on political parties and their activities.
Gathering information about fires and explosives.
Secret report preparation and providing information to senior staff as well as to the Government.
Traffic and Motor Transport Section
The Traffic Branch regulates traffic in the city. During the festive season, they plan entry and exit roads. They clear traffic for VIP convoy. The Motor Transport Department was established in 1982 at the headquarter premise of Gadchiroli, while the Sub-division was set up at the Pranhita headquarter premise.
The Motor Transport Department has two officers, and 339 police employees are deployed for various jobs. The Department has 126 two-wheelers and 383 four wheeler vehicles. The drivers for the vehicles are deployed according to the rules. Vehicles are provided to the police forces according to the daily requirements.
Women and Children Cell
This is a specially-created cell designed to look into the grievances of women, children, and cases of domestic violence. Women social workers and NGOs are on the panel. They hear the cases of victims and try to settle their differences through counselling. Unsettled cases are sent to police stations for legal action.
Police Welfare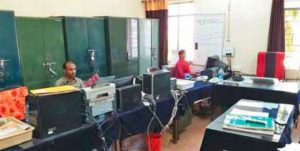 Gadchiroli District Police has a Police Welfare Branch that conducts various welfare programmes. Chatgaon has stared a rehabilitation centre for addicts. The Branch has also started a gymnasium, subsidiary canteen, gas agencies, daily needs shops in the headquarter premises. An Arrest House has also been set up for senior officers. The Branch also conducts yoga training sessions on the police headquarter ground every morning.
Being one of the underdeveloped districts of Maharashtra, the local cops try their level best for the betterment of the citizens and their safety. They are always on their toes to tackle any naxal attack.
SP's Message
Gadchiroli Police is committed to make Gadchiroli naxal-free. We have launched a relentless drive against anti-social and naxal elements, and will continue to do so with popular support of the local people.
Gadchiroli Police shall ensure the rule of law, enforce the law of the land impartially and firmly without fear or favour, and strive to create a fear-free environment that is conducive for growth and development.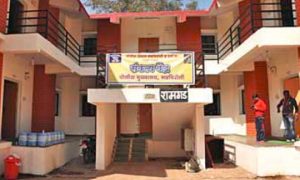 Gadchiroli Police will remain committed to maintaining public order, preventing and detecting crime, maintaining and promoting communal harmony, ensuring smooth flow of traffic, and taking strong action against terrorism, organised crime and anti-social elements.
We will serve and protect all; particularly the downtrodden, the weak, women, minorities, senior citizens, slums dwellers, the poor and other marginalised sections of society. We will give prompt and compassionate response to every call from citizens in distress. We will keep our personal integrity high, work as a team to bring in transparency in our functioning and strive continuously to raise our professional skills. Making Gadchiroli a safer and better place to live is our mission, and we will work towards this along with the community.