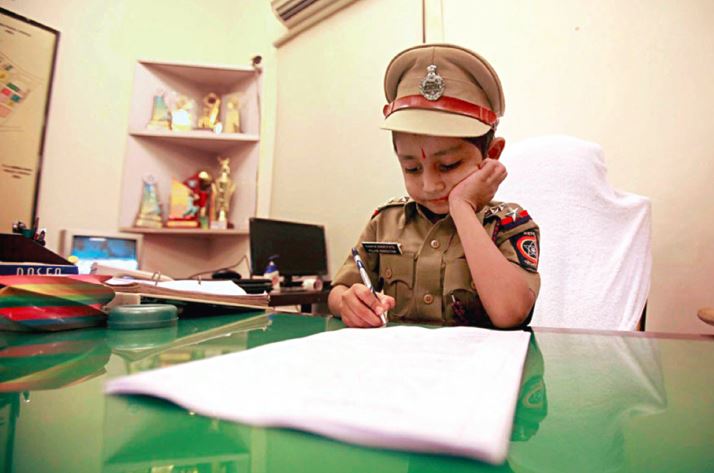 Police officers in India are often stereotyped as unfit, lazy, corrupt and beholden to politicians, who do not care about the welfare of the ordinary citizens. Nonetheless, it is a thankless job, and in a country where the institution suffers from a severe shortage of personnel, these policemen are often overworked and underpaid. Having said that, the Mumbai Police is working to break the stereotype and improve its image. Some of their heartwarming gestures will definitely change your perception of policing in Maharashtra.
Recently, Mumbai Police assigned the responsibility of heading a police station to a seven-year-old cancer patient, Arpit Mandal, who always aspired to become a police officer. Make-a-Wish Foundation,(an NGO that offers unique experiences to children suffering from life-threatening diseases belonging to the age group of three to seventeen), joined hands with the Mulund Police Station to realize his dream of becoming the top cop of a police station.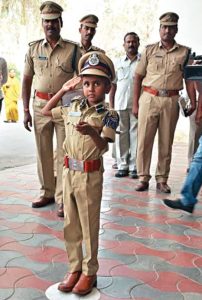 Mumbai Police posted a compilation of Arpit's photographs at the police station on its Twitter handle. In one of the photographs, the seven-year-old is seen in a police uniform sitting at a desk in the police station. In an another photo, he is seen surrounded by a few police officers cutting a cake. The caption of the photographs on Twitter read: "A boy, whom even cancer could not scare, definitely deserves to be a police station in-charge."
Another beautiful post said, "Mulund Police Station was completely won over by the undaunted spirit of 7-year-old Arpit Mandal who is fighting cancer! If we could, we would fulfill all his wishes beyond just being a police inspector for a day #ProtectingSmiles @MakeAWishIndia.
Such heartwarming gestures of Mumbai Police have won the hearts of millions across the country. In an another incident, Sakinaka Police Station threw a surprise birthday party for a complainant who had come to file an FIR on his birthday.
In April 2016, when young Kunwar Singh Patil suffering from cancer was asked what he would like to be for a day, the answer was simple: "a policeman". His dream was realized and he was appointed senior inspector for a day at a Mumbai police station.
In February 2015, seven year old Mehak Singh, battling with Stage 4 bone cancer with marginal chances of survival, expressed desire to become a police officer to protect the country. The wish was fulfilled by Mumbai Police through Make a-Wish Foundation. Dressed up as a police officer, the spirited and smiling child spent hours at Mumbai's Bhoiwada Police Station, saluting and interacting with policemen.
"It's my wish to become a police officer and protect my country," the seven year old said. The police too, were touched by her desire. "She says she wants to protect the country. She wants to work for the benefit of society. It was her wish to wear the uniform so we fulfilled it," said a senior police officer attached to the police station.
"We have observed that if wishes of such terminally-ill children are fulfilled, their satisfaction level and spirit to battle the disease is boosted. It strengthens them and expedite their treatment to some extent. Most children want to be celebrities and actors, but Mehak's wish was unique and something they just couldn't turn down," said Dr Sridhar of Tata Memorial Hospital, who was treating Mehak.
Similar gestures were witnessed at Hyderabad when Rachakonda Police appointed a six-year-old terminally-ill boy, D Ishan, as police commissioner for a day on April 4, 2018. He was joyful when his ambition of becoming a police commissioner was realized. Ishan, the youngest of three children of a wall painter – D. Chand Pasha, is suffering from blood cancer. His condition is critical. The family hails from Medak district, adjoining Hyderabad. Ishan is a Class 2 student in a local school in his native Kunchanpally village.
Ishan's dream of becoming a police officer came to the notice of Make-A-Wish Foundation. The Foundation's representatives took Ishan's desire to the Rachakonda Police Commissioner – Mahesh M Bhagawat, who agreed to help fulfil the boy's desire.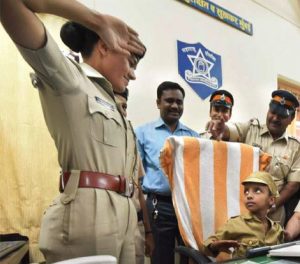 Ishan arrived at the Commissioner's Office at Gachibowli area in the city and took charge as the commissioner. He received the guard of honour from the staff at the commissionerate. He then addressed the media. Friendly policing and CCTV cameras for better vigilance were among his priorities. He mooted increasing the number of SHE teams, which were formed by the State Government to enhance the security of women.
by Mohit Naik