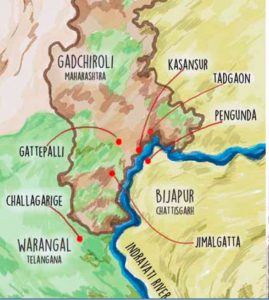 The recent encounters at Gadchiroli killing 39 Maoists is being touted as the most successful Anti Naxalite operation in 40 years. According to a MHA report 'Red Corridor' is shrinking.
In a major operation on April22, using local intelligence inputs effectively and acting swiftly by taking the fight to the Maoist heartland, the Gadchiroli police have succeeded in one of the most high-risk operations carried out by the security forces killing 39 Maoists.
The encounter is being considered as one of the biggest successes in the Anti-Maoist operation in the country.The elite commando force of Gadchiroli police — C-60 along with Battalion 9 of the CRPF, eliminated 16 ultra-Left rebels near Kasnasur village in Maharashtra's Bhamragad tehsil.
"Due to heavy rains and paucity of manpower,searchfor bodies was stopped. On April 23, an operation was launched to search for bodies in Indrāvati river and 15 more bodies were recovered," the officials said.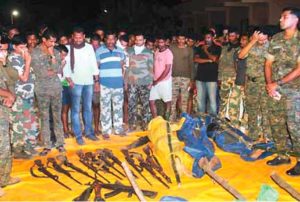 The operation of this scale that led to elimination of 39 naxals, compels us to introspect the factors that led to its success without any casualty to the security forces. Significantly, the operation led to the elimination of two dreaded senior and experienced Maoists commanders — Srinu & Sainath — the duo had been operating in the area for the last 15 years. Prior to this, two other senior commanders Aitu and Sunil Kulmethe were killed.
Fresh operations have virtually wiped out the top Maoist leadership in Gadchiroli. A sizeable chunk of weapons — AK-47, Insas rifle, bullets and other ammunition were recovered from the encounter site. "The exact recovery will be revealed in due course," the officer said.
Gadchiroli, the only district in Maharashtra considered as a Maoist hotbed, has become a sanctuary of the Left-Wing Extremists (LWE) over the years. In early 1980s, the Naxals used Gadchiroli as a transit passage for their movement from Andhra Pradesh to Chhattisgarh, Madhya Pradesh and other districts on the Red Corridor. Factors like dense forest and exploitation of tribals by government officials and money-lenders in the region, made it a safe haven for Maoists.
Besides operational efficiency, the contribution of the government's free-hand to the police force and initiatives by the authorities that instill trust among the locals, also deserve credit in the success of the operation. "Maharashtra government has not only given a free hand to the police to curb Maoists, but it has also taken initiatives on the development front, which is gradually helping local population to trust us," the police source said.
Rewards on slain Naxals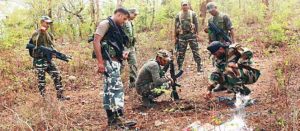 The identified naxals were carrying rewards of Rs. 82 lakh on their heads cumulatively, Gadchiroli police said in a press note. Sainath alias Dolesh MadhiAtram (32) was a prominent leader among the slain ultras. Hailing from Gattepalli, Gadchiroli, he was divisional commander, Permelli Dalam was carrying a reward of Rs. 16 lakh on his head. Rajesh alias Dama Naruti, hailing from Murgaon in Gadchiroli district was carrying a cash reward of Rs. 4 lakh on his head.
There were a total of seven women among the slain Naxals. One of the identified rebels was a 17 year old girl, a member of platoon no 7 of the naxals, while another 17-year-old girl was Aheri Dalam Commander, the police claimed. Nagesh alias DulsaNarote (32), hailed from Jharewada in the district. He was a member of Permelli Dalam.
Shrikant alias Dulsa alias RanuNarota (23) hailed from Morkhmandhi in Chhattisgarh. He was also a member of the Naxals' Permelli Dalam.
Sannu alias BicchuGawde(44), hailed from Korepalli in Gadchiroli district and was a member of platoon no 7 of the Naxals, said the release.
Why Gadchiroli operation has become a big success?
According to counter-terrorism experts, the success in the case of Gadchiroli police operation has been due to its offensive stand against the Maoists, while acting fast on intelligence inputs. In this particular case, the intelligence inputs were passed on to the police by locals.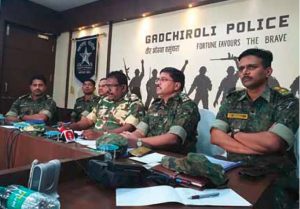 "The anti-Maoist operation by Gadchiroli police and its C-60 commando force succeeded because they took an offensive stand rather than just reacting to Maoist ambush as it usually happens. The forces can have an upper hand only if they have a strong connectivity at local-level, act swiftly on intelligence inputs and follow standard operating procedures," remarked counter-terrorism analyst, Anil Kamboj.
Recalling the last Maoist attack on a bus carrying policemen at Bijapur district in Chhattisgarh on 9 April, that killed two policemen ahead of Prime Minister Narendra Modi's visit Kamboj said, "In that case, SOPs were not followed, intelligence inputs were ignored and as a result the Maoists succeeded in blowing up the bus using IED."
Kamboj, who has led forces in various insurgency-hit zones, including Bastar, added, "To take Maoists head-on, we need to have specially trained forces like C-60, to take the lead, this is the reason why Greyhounds of Andhra Pradesh have been a success."
C-60, comprising 60 police personnel, is an elite police commando force created in 1992 to counter Naxal menace in Gadchiroli district. The innovative concept was introduced by the then Superintendent Police – Gadchiroli, K.P Raghuvanshi.Since then the commandos of the force are being trained in various types of guerrilla warfare.
Decline in Maoist incidents
According to the government, over the last five years there has been a decline in Maoist incidents and casualties of security personnel and civilians. After a review by the government, the number of Maoist-affected districts in the country has come down to 90 from 126.The multi-pronged strategy of the present government and the security & development measures has led to the decline in naxal influence according to Home Ministry.
"There is a distinct decline in incidents and casualties, but that doesn't indicate termination of the problem. The problem will not end so soon since the problem wasn't addressed for a long time – almost five decades. It has lately begun," said defence and strategic analyst, Major General (Retd.) Dhruv Katoch, while briefing press. According to Katoch, unless Maoist ideology is eliminated the menace cannot be fully uprooted.
"Maoists have gone weak in several pockets. It is a 'strategic pause', until they emerge stronger after a period of time. 'Maoist ideology' needs to be done away with and we are distant from defeating it, which is a big challenge. We need an alternative ideology to counter the Maoist ideology," he emphasized.
What's needed?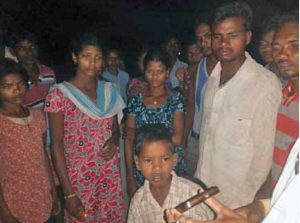 The experts believe that multiple measures need to be adopted to counter Maoists-through wide range of measures from inter-state coordination to perception management.
Improve inter-state coordination to stop the movement of Maoist cadre from one state to other.
High-level of intelligence sharing &policing through better coordination between the states, state police and central para-military forces.
Holistic and long-term administrative planning.
Lower-level functionaries in police and forest department – from beat constable to forest guard need to be sensitized in dealing with the local public, such as tribals and other villagers. This will help in strengthening intelligence system at grass-roots. "To win this battle, we require strong support of the local public and their inputs," said Katoch, a former Director, Centre for Land Warfare.
Single policy cannot work at all Maoist-affected districts. State policy needs to be worked out based on the requirements of the locals and their priorities," he remarked.
State governments have to ensure proper implementation of Forest Act and Tribal Rights Act.
• Maoists sympathizers in think tanks, NGOs, academia and even in the government working out of metropolis need to be identified. Their agenda works on foreign funds. Moreover, state police need to gear up. The Centre has released funds for the districts affected by Maoist insurgency. The states have to ensure honest implementation of central schemes, so that the funds reach out to the beneficiaries," added Katoch.