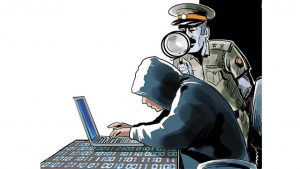 The Cyber Cell of Mumbai police will now have separate cyber cells at all police stations to deal only with complaints related to cyber crimes. In an effort to reduce cyber crimes, Mumbai Police Cyber department launched these units on December 4, across all police stations that will be operational from December 9.
NCRB report
Recently, the National Crime Record Bureau (NCRB) released a report on cyber crimes committed in the country. Mumbai ranked first with 4,172 cases of cyber-crimes being reported for the year 2016, followed by Bangalore with 762 cases and Jaipur with 532 cases.
Maharashtra ranked second in crimes against foreigners, after Delhi. The state registered 38 cases in 2016. The numbers had declined from 53 cases in 2015 and 59 in 2014.
A total of 7,369 cases (20.6 percent) of juvenile in conflict with law were reported in Madhya Pradesh, followed by 6,606 cases (18.4 percent) in Maharashtra.
Of the 61,974 cases of riots and group clashes, the highest– 11,617 cases– were registered in Bihar, 8,018 in Uttar Pradesh and 7,898 in Maharashtra.
The data on crimes against senior citizens reported 1,218 cases in Mumbai alone out of a total of 3,562 cases in 19 metropolitan cities. Delhi stood second at 642 cases and Ahmedabad third with 362 cases, the data revealed.
As per Cyber Department of Mumbai police, at every police station, three police officers and three constables will look into the cases related to cyber crimes that will help increase the detection rate of cyber crimes. The police constables and officers will undergo training for five days at Mumbai's cyber cell headquarters, Bandra Kurla Complex.
While briefing to press, Akbar Pathan, deputy commissioner of police (Cyber Crime) said, "At the end of the training, the police will be equipped to register and investigate the various types of cyber crimes, use various applications and refer them to the general public to increase the awareness. These trained police officers will be following the standard operating procedure (SOP) that will enable them to crack down more cases related to cybercrime. The cops will be provided with a tablet with latest applications and software, to help detect the cyber crime. The cyber police have also come up with a help line number 9820810007 where people can call up to report any cyber crime."
Nitesh Poojari