The disproportionate ratio of population and the number of police available to attend to public grievances makes policing job tough. However, the proliferation of social media and other platforms has compensated the lack to some extent through widespread connectivity. It serves as a communication bridge with the local citizens. The State Police Department has used technology to reduce crime rate by educating the public about the do's and don'ts of social media.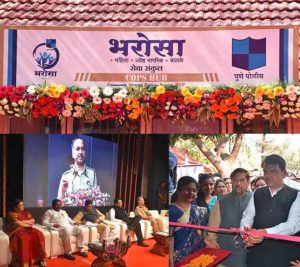 A Bharosa Cell was recently set up at the Pune Police Commissionerate. It was inaugurated by Devendra Fadnavis – Chief Minister (Maharashtra). Eminent guests  present on this occasion were Datta Padsalgikar – DGP (Maharashtra); K. Venkatesham – Pune City Police Commissioner; Girish Bapat – District Guardian Minister for Pune; Anil Shirole – MP; Naval Kishor Ram – District Collector, and Saurabh Rao – PMC Commissioner.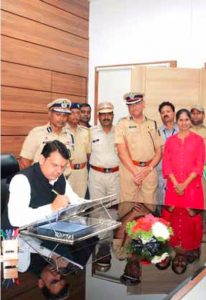 The Pune City Police have set up the Bharosa Cell to provide assistance and counselling to senior citizens, women and children.  In his address at the event, the Chief Minister said, "The police should work in such a manner that the local residents have bharosa (faith) in approaching them. The Bharosa Cell will work towards rehabilitation and support of juveniles. It will also provide a temporary residential facility to women undergoing counselling, provide legal aid to victims of domestic violence. The Cell will also try to provide immediate help to senior citizens with the help of NGOs."
About Bharosa Cell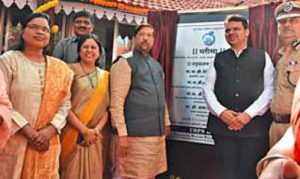 "A team of police officers will assist people in dealing with stress and provide help to juveniles. The formation of the Bharosa Cell is the need of the hour to address the problems of the victims (women and children). The Cell will provide all kinds of support including psychiatric and legal advice to them," said an officer attached to Bharosa Cell.
"The Bharosa Cell  in Nagpur has done a commendable job with good results in a short time. We hope this Cell will be a great support to the residents of  Pune too. Modernisation of the Police Department and fulfilling housing requirements of the police personnel will be a priority," said Fadnavis, while inaugurating the Bharosa Cell on the premises of the Pune Police Commissionerate.
Bharosa Cell In-charge, Vijaya Karande said, "Under this unique scheme, we are receiving 30 to 35 applications on a daily basis, ranging from family feuds, problems faced by senior citizens and children's grievances. Under the initiative, we resolved most of the issues by holding a dialogue with the concerned parties," she added. The Bharosa Cell, the brainchild of Commissioner of Police – K Venkatesham, has three separate departments for senior citizens, women and children, who are victims of crime. "We received marital discord as it's a common phenomena in the society. Husband-wife dispute cases are common with majority of them complaining about their partner not spending sufficient time with them. The Cell also receives extra marital complaint cases," said Vijaya. According to the Officer, they have so far received 2,945 applications related to problems faced by women, of which, 1,560 complaints have already been resolved by the Cell.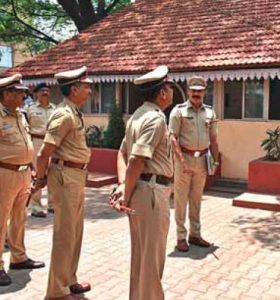 The Bharosa Cell also includes a special cell named Senior Citizens Cell where a team of police personnel headed by a Senior Police Inspector and an Assistant Police Inspector look after complains by local senior citizens. "Senior citizens are an important part of our society. We have witnessed many complains from this section about harassment by their own children, property dispute, mental torture etc. Earlier, we had started interacting with such senior citizens and have share phone numbers and created a Whatsapp Group. Each police station is asked to communicate with senior citizens  and guide them through tricky situations or alert them by providing knowledge about any crime taking place in the city so as to make them aware of what is happening around them," said a police officer attached to Bharosa Cell Department. "This Group will have police officers ranging from a Constable to a senior Police Inspector. If a senior citizen face any problem or harassment, or has a crime committed against him/her, they can update their complaint, and accordingly, action will be taken on the accused," he added.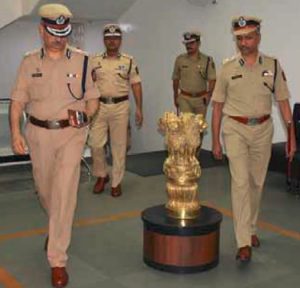 Through such messaging groups, the police also intend to encourage citizens to come forward and lodge their complaints since they realise that many crimes are unreported. "We will monitor the conversations. At a later stage, we will archive the conversations," said another officer attach to Pune City Police. "WhatsApp was chosen because it is available across different mobile phone platforms. Depending on the response we get, we will decide whether to create more such groups and whether to confer moderator powers on sub-inspector rank officers as well," the officer added.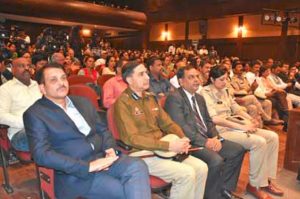 Apart from the Whatsapp Group, senior citizens can file their complaints through other mediums like the helpline number provided by the police (1090, 26111103/ 26208392), emails, post etc. "Most of the complaints from senior citizens are related to cheating, gas agency related issues, old age home, municipal corporation related work, delay of pension, etc. Each complaint is looked after by the appointed police officer and they try to solve these issues within the shortest time possible.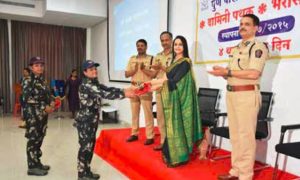 The Chief Minister also inaugurated a new building of the Pimpri-Chinchwad Police Commissionerate in Premlok Park area. The Commissionerate has been functional since August last year, with IPS Officer – R K Padmanabhan – as its first Commissioner of Police.
At the inauguration, Fadnavis said his government would provide necessary manpower and vehicles to the force. "A committee has been set up under the State DGP to look into these demands, and a decision will be taken soon," he said.
Citizen Talk
Jayanth Shettigar
Infosys Employee
"The set up of a new Bharosa Cell is a fantastic move by the city police department. The relationship between the police and the citizen should be open since the citizens are intimidated of the police even now. This Cell will definitely help reduce the communication gap between the cops and citizens."
Kayara Ansari
Local Citizen
"The name Bharosa (Faith) itself will attract citizens towards cops. It's very important for citizens to have faith in the jurisdiction system. They should feel comfortable in approaching the police station if they are suffering from some problem or observe any illicit activity in their vicinity."