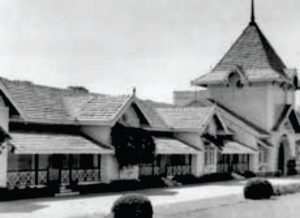 Police in Karnataka were called by various names in different regions. After initiation of policing, they were initially called by names such as Thoti, Talwar, Umbalidhar, Kattubidi, Neeraganti etc. In the beginning of their jobs, they were entrusted with non policing jobs. The foundation of the present police set up as it is today was laid down after the appointment of state's first Inspector General of Police.
Today, the state police has grown into a big and complex organization running on modern management principles.
History:
Mysore state was the predecessor to Karnataka state, which was created on 1st November 1965. L. Rickets was appointed as the first Inspector General of Police, prior to which the state police had no status, structure and powers as such. A report of 1883, says that Talwars, Thotis, Neeragantis, Kavalugararu, Amaragararu, Ankamaale, Patela, Shyanubhogas etc. used to do policing. During the rule of Maharaja of Mysore, the policing existed in different forms.
Kandachara or Hukumnama:
Hukumnama or Kandachara was issued for policing during the rule of Maharaja Mummudi Krishna Raja Wodeyar (1799-1811) at old Mysore region under the British rule, when Sri. Poornaiah was Dewan. The soldiers belonging to Maharaja's infantry were entrusted with the responsibility of policing, which European soldiers supervised. Amaldars now Tehshildars, the revenue officers were Taluka police chiefs. They were assisted by Faujidhars, who also collected taxes from peasants.
Police system worked under various names such as Talwars, Thotigars and Kavalgars. Later in 1817, as per Bengal regulation model, law was enforced and Patels, Shyanubhogas were entrusted with police responsibilities. They were neither paid, granted leave nor had access to any vehicle. Instead, Maharaja gave them Inam (Bhakshis) in the form of land or food grains. In 1853, Police Act was enacted across the country. During that time, Lord Cubbon was posted as commissioner. There were eight districts divided into three divisions, each district headed by the magistrate (District Collector), and superintendents were posted. Neither of them had any formal training. The District Magistrates were police chiefs assisted by superintendents of police.
Judicial System:
In the year 1856, when the judicial system became functional, Judicial Commissioners were appointed. In 1873, an officer of the rank of Deputy Inspector General of Police was appointed to assist him. During the same period, posts of first class Inspector, second class Inspectors, Jamadhars, Daphedhars(Head Constables), Constables were created. Shirasthidhars, Head Quarter Assistants in District Magistrate's office used to sanction the police staff's pay and other requirements. At taluk level, Amaldhars continued as police chiefs. A monthly pay of rupees thirty to fifty was fixed for first class and second class officers along with residential allowances of rupees ten. Also Jamadhars, Daphedhars and Constables used to get a monthly salary of rupees twelve and eight respectively.
First IGP (Inspector General of Police):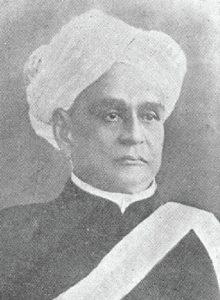 Reformation of police system took place in the year 1883. On the 1st of November 1885, Ricket was appointed the first Inspector General of Police of old Mysore state. Later V.P. Madhav Rao took over the charge from Rickets. A separate policing was enforced for cities of Mysore and Bangalore. Government met the expenditure of police system in Bangalore whereas local municipality had to meet the expenditure on Mysore city police. At the same time,Yelanduru belonged to Jahagirdhar, who was also in charge of policing. He entrusted police jobs to his lieutenant's.
Expenditure of policing was taken care of by Jahagirdhar, who was superintendent of police himself. The system was terminated or leased in 1884. At the same time priority was given to educate police. In 1892, a Police Training School was established at Bangalore to train Jamdhars, Dhaphedhars and Constables. Recruitment and training was undertaken by police training school annually by conducting examination. Competitive tests were conducted to provide promotions. As years passed, problems started surfacing as there were no regulations or set rules to be followed in policing. Hence, under the guidance of Inspector General of Police, the Head Quarter Inspector N. Laxman Shasthri published a guided hand book for police.
Minister Devaraj Urs, who was Inspector General of Police in 1912, visited Vellore, studied the pattern adopted there for police training. During his regime he brought about massive changes to Bangalore Police Training School. Later, Katheshwar Iyer set up a criminology museum for the Training School. Devaraj Urs, Inspector General of Police was promoted to council ship (cabinet) and was the first Inspector General of Police to become a minister. F.A. Hamilton was posted as Inspector General of Police in 1930 and headed the police force for a period of eight years during which he administered a lot of changes. As years passed by, pulled carts, tongas, cycles, motorcycles and cars came on roads and the need for traffic regulation arose. Hamilton created Traffic divisions for Mysore and Bangalore cities. In Bangalore Upparpet, Ulsoor gate and Kalasipalyam police stations were entrusted with the responsibility of traffic regulation. At Mysore, a European head constable was chief of traffic division, but Amaldhar used to sanction his monthly pay and allowance. Later, police constables were provided with cycles and each constable was paid with fixed cycle allowance of rupees seven and eight paisa per month.
Probationer:
In the year 1932, to recruit literates into the police force probationary police Inspectors were directly recruited. State Inspector General of Police was the appointing authority. Annually, ten probationer Police Inspectors were to be recruited. Thus, police department started recruiting literate officers. The government decided to encourage the staff with exemplary courage and meritorious service by rewarding with "Gandaberunda" honor in 1935. A constable or officer so rewarded would get increment ranging from rupees three to twelve.
There was increase in vehicle registration, drivers were issued licenses, when bus warrant system came into effect. A "Weigh Bridge" was constructed in the premises of Inspector General of Police office. Bus warrant payment for subordinates came in vogue during this time and still continues in the police department.
Independence Movement:
From 1939 onwards the winds of freedom struggle blew strongly in Royal State of Mysore. The heat of civil disobedience had hit police force. Leaders like H. Siddaiah, T. Subramanian, Malavalli Veerappa along with 2000 protesters were arrested. Out of them, 1641 were convicted which became a big issue during that time. As Bangalore grew, population and crime rate increased burdening the police with more work, when M.K. Somappa was appointed as Deputy Inspector General of Police, Bangalore City in 1944. At the same time, in Bangalore city a private bank was started by B.N. Gopala Rao and a number of complaints of irregular practice in the said bank were reported. The Government appointed a commission of enquiry headed by Justice P. Medappa, S. Nijalingappa, Tekuru Subramanya, N. Veerappa and N.T. Babu Reddy. Police officer N.T. Babu Reddy was secretary to the commission. Government accepted the recommendations of commission and increased the salary of Babu Reddy by rupees one hundred and fifty.
Kodagu:
Kodagu was ruled by local chieftains as there was no organized police system, and Jamma peasants managed policing. Criminals were caned as punishment. Patels and Gowdas were promoted as Subedhars. An office called "Dharnaghal" was established to receive public complaints. In 1861, after implementation of Police Act, a chief commissioner was appointed for Kodagu, who was also an IGP.
Bellary-Mangalore:
The present Bellary-Mangalore regions belonged to old Madras Presidency where Kavalugara and Palegaras enforced policing. A systematic policing came in to effect on implementation of Police Act 1861, with the posting of superintendent of police and assistant superintendent of police. Since 1827, effective policing has been in force in Belgaum, Dharwad, Bijapur, Uttara and Kannada under the administrative control of old Bombay Presidency. In Pune, Deputy Inspector General Police was the police chief and supervised the above four districts. The eligibility of tenth standard or intermediate was required to become a Police Inspector. Officers were trained in London in the cadre of "Imperial Police" and were posted as Assistant Superintendent of Police and promoted as Superintendent of Police after ten years. Subsequently, Indian Police Service Officers were selected for the positions held by IP officers earlier.
Hyderabad:
Gulbarga, Raichur, Bidar come under Hyderabad Nizam's rule where the term "Sadar-Ali_Moham" or "Police Minister" was used. Ammendhars and Police Inspectors were Taluk level chiefs along with "Deewani Police" and "Jahangir Police" culture. Jahagirdhars of the area used to appoint "Jahagir Police" who had the responsibility to protect the property of Jahagirdhar. The system ended when Hyderabad became a part of the Indian Union.
After 1956: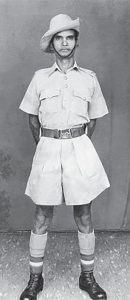 In 1956, the re-organization of the states was done in India on a linguistic basis. On the same lines, the Mysore state came in existence in 1956. The unified state police got a uniform dress code under Mysore Police. With the passage of time there was increase in violence, law & order problems, crime rate and a strong force was developed with improved facilities to meet the new challenges. During the initial years of the Mysore state, the police department had only three DIG's of ranges at Belgaum, Bangalore and Mysore along with a small reserve force, Intelligence and Criminal Investigation Department. P.K. Monappa was the first Inspector General of Police and also state's first IP(Imperial Police) officers. Hosalli took over from Monappa on his retirement. Hosalli was the last IP officer who served the state for a period of twelve and half years as IGP. The border districts of Karnataka even though unified, were out of reach during emergencies. Hence, another range office was created at Gulbarga with Dy. IGP heading it. Meanwhile, Portuguese had vacated Goa and the central government handed over its administration to Karnataka state police. Central government gave certificate of meritorious service to Karnataka police for the services rendered in Goa.
Bangalore City:
After unification of Karnataka, Bangalore as a capital city grew very rapidly, posing various challenges to the police. Bangalore city became a commissionerate on 4th July 1963. C. Chandhy, a Sr. Dy. IGP was appointed as the police commissioner.
As Karnataka, was unified from various regions, each region had enforced it's own police laws, regulations and culture.
To provide uniformity the Karnataka Police Act 1963, came into force from 2nd April1965. Hence, a uniform police regulation across entire state was enforced. Yet the problem was not solved. Thosis, Talwar, Patels etc. was part of policing. Hence, the Karnataka Village Defense Parties Act was passed and enforced in 1964.
Devaraj Urs became chief minister in 1972, and held Home portfolio till he was in power. During his reign, the department shaped into a huge organization. The Criminal Investigation Department and Intelligence units were separated and were headed by Dy. IGP. Later CID was transformed into COD and its office shifted from Inspector General of Police office to present "CARLTON HOUSE". Corps of Detective used to investigate crimes exclusively. Hence forest, food cells and forensic science lab were placed under the supervision and control of COD.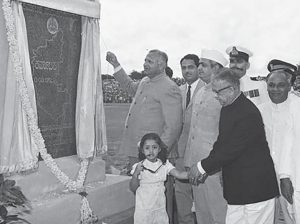 Later food cell and forest cell separated from COD and a Dy. Inspector of Police was posted for supervising their work. At the same time atrocities against SCs/STs were increasing. Hence, Civil Rights Enforcement Cell was set up in Corps of Detectives under Dy. Inspector General of Police.
Home Guards and Fire Force: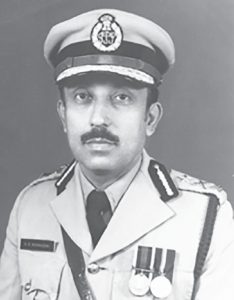 Home Guards and Fire Force are two wings of police department, a real necessity during emergencies rendering services to public round the clock. Later these wings were split from police department. A.R. Nizamuddin was appointed as DGP- Fire Force and Home Guards.
Police Computer Wing:
Maintenance of records is an integral part of the police station work, when such maintenance of records became a burden to the department then computerization of all the police station records was initiated under a new and modern system of functioning. Initially, the photographs of criminals, their history sheets, fingerprints were computerized and subsequently the salary bills of police staff were also computerized. The SP rank officer was heading this unit initially. Presently, an officer of the rank of Inspector General of Police heads the police computer wing and the computerization is managed by Police Computer Wing, coordinating all IT tasks with the available technical knowledge in the department and also development and deployment of Police IT ERP solution. Since 1977, State Crime Records Bureau has compiled information on crimes, criminals and provided information (within the state and nationally) required to collate crime statistics and classified crimes under guidance of Inspector General of Police, Police Computer Wing.
Transport System: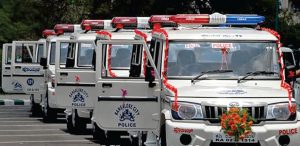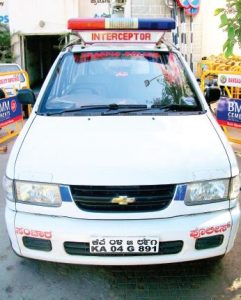 Police department started with the cycle force in 1928, has a completely modern transport system today. In 1928-30, there were only three buses where as now the department has a fleet of buses, jeeps, cars, and two wheelers etc. to meet various challenges of policing in a competent manner. Maintenance of vehicles and training of drivers are amongst the main tasks of this unit.
Reserve Battalion: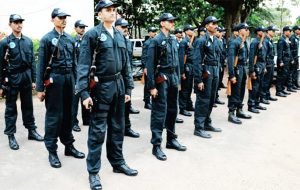 When Mysore state was formed there was no major Law & Order problem, protests and rallies etc. only surfaced subsequently. Hence to contain and control such situations Karnataka Reserve Police was created. In 1956, state had three battalions (with aggregate of more than 3000 persons).
At present, it has eleven battalions along with two India Reserve Battalions in the state, with four battalions at HQs in Bangalore and rest located at Mysore, Belgaum, Gulbarga, Mangalore, Shimoga, Hassanand Shiggao in Haveri district. Other than the Karnataka State Reserve Police, the state has district & city armed reserves in every unit across the state.
Training: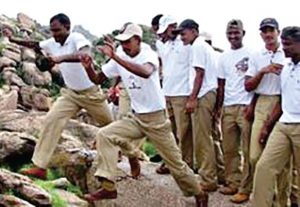 As the police force grew in numbers and tasks became complex, it became important to provide appropriate training to enable the force to be very smart, strong and disciplined. Hence training schools across the state were started to train the constables and also Police Training College was started at Mysore to train PSIs (Police Sub Inspectors), Dy. SPs and IPS officers.
Women Police:
With the aim of social reforms, the department started recruiting Women Police. During state reorganization nine women police came into the fold of State Police from Mumbai & Karnataka region. At present, women police constables are working in all police stations across the state. Jija Hari Singh was the first woman IPS officer in the state of Karnataka.
Police Dog Squad:
Police dogs in police department were utilized since 1968. J.B. Samuel who retired from Madras started dog squad in Karnataka. Initially, the squad had six canines; the numbers have now increased to more than forty.
Police Benevolent Fund:-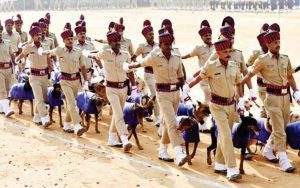 For the welfare of police, various schemes such as police housing, Karnataka Police Benevolent Fund, Aarogya Bhagya etc. have been created. The new state of Karnataka came in to existence on November 1, 1956. The erstwhile state of Mysore with ten districts, four districts from erstwhile state of Bombay, three districts from erstwhile state of Hyderabad, one district and one taluka from erstwhile state of Madras and part of Coorg state were integrated into one unit. Consequently, the new state of Karnataka had five different police systems, acts, rules, manuals and even uniforms when it was formed. In all these spheres uniformity was brought and by 1965, the entire force was reorganized. The state enacted the Police Act in 1963 and brought it into force with effect from April 2, 1965. The city of Bangalore has a Police Commissioner as head of the city police. There is a Water Front Police for Uttara Kannada (North Canara) district for patrolling through motor launches.
Sanjay Sahay
ADGP, Karnataka Police