Costs of repairing vehicles have been escalating; people dread therefore to visit mechanics for repairs. For trivial jobs, we end up paying hefty amounts and we often wish we knew the job. Mumbai police however, has become lucky in this matter with 34 women constables doubling up as mechanics in the motor vehicle department. The account statements of the year 2016, show that Mumbai police managed to save Rs.70 lakhs in a year due to this.
Motor Vehicle Department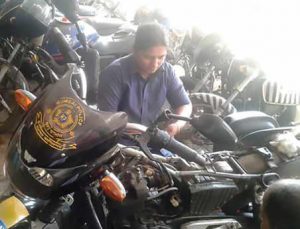 These women constables work in coordination with their male counterparts and repair not just motorcycles but also jeeps and cars used by the Mumbai police. The Motor Transport section of Maharashtra police was established in 1948, to cater to the needs of mobility of Maharashtra police that consisted mostly of male constables who worked as drivers and mechanics. The past few years have witnessed a changing trend, more women are coming forward and they are no longer just interested in driving but in repairing, denting and painting work as well.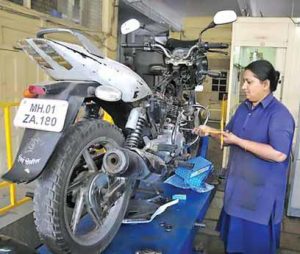 The Mumbai police is in charge of providing security to VVIPs and reach them from one place to another. Police use these vehicles from the department for transport and so they have to be in perfect condition. Mumbai police has 4027 vehicles and occasionally these vehicles go to Motor Vehicle Transport Section of the department for maintenance and repair work which is handled by these 34 women who are working in the various sections of the department.
Atul Patil – Additional Commissioner of Police and Police Inspector (PI) Sanjay Jagade are the in charge of the department. While speaking to Mumbai Protector, Sanjay Jagade said "there are 34 women constables who are working in the Motor Vehicle Department and most of them have good experience in the electrical department.  We have not forced any officer to work in this department; it was their desire to be a part of the Vehicle department. We felicitated all 34 constables on Women's day for their spectacular job."
Repair of cars is overseen by Nazmunita Munaf Khan, who has studied IT in the electrical department and has been on the job for the past 21 years. She was recruited in 1996. In a single day, she repairs around 10 to 12 beat marshal bikes. "In those days, when I joined work only few women were on repair work. It was an entirely labour job. Now, more women are taking interest in the job and technology has made it a bit easier," said Khan.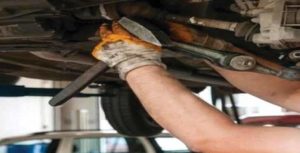 Purnima Khadtade is in-charge of repair of vehicle seats in damaged condition. Eight women like her are in charge of seat repairs and other parts of the vehicle. "We invite tenders and take quotations. We then finalize the parts of the vehicles to be bought like seat covers and rare view mirrors and then fit them. It's an interesting job," said Khadtade. Other women constables like A.A Godse andA.G. Chavarkar are in charge of painting which used to be done with hand before machines were bought. The painters are at present in charge of Marksman Bullet Proof cars which the department bought recently.
"The women constables repair vehicles like Boleros and other heavy vehicles within weeks that took more than two months earlier, if a private contractor was given the job. We are thankful to these women and will reward them soon," said Datta Padsalgikar, Mumbai police commissioner.