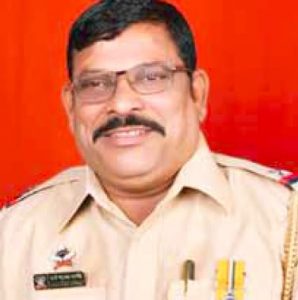 Thane's Super Cop, 52 year old Uday Raghunath Palande, holds the record of single-handedly arresting 431 criminals in a five-year period. For his gallantry, his colleagues call him the Real Life Dabangg.
Uday Palande is very much inspired by what the Preamble to the Constitution of India mentions as guidelines: Justice, Liberty, Equality and Fraternity. He makes them his goals. Fear is always on the back burner for him. He sets goals for himself, turning the invisible to visible by building infrastructure for preventive detection while monitoring effective detection of crimes in his jurisdiction.
Complainants who come to his office not only get to have their complaints registered without any fuss, but solved in record time by this dynamic officer. They leave the office assured of hope for a better tomorrow. He made it his mission to build a rapport with the people under his jurisdiction right from day one.
Watching Bollywood movies like Zanjeer and Singham as a young boy inspired Udhay Palande to become a cop. Their high energy and daredevil characters instilled in his mind a dream of becoming like them.
ASI Palande has not only conducted his duty with sincerity and passion, but has helped countless people. Over a period of time, Palande has proved why he is one of the best cops because of his unique investigation techniques and high number of sources. He is one among the few Thane Police officers who have been awarded the Director General of Police's Insignia for Meritorious Service.
Recently, under the jurisdiction of Thane, Park Side Police was searching for an accused, identified as Vijay Singh, who had looted people on the pretext of being a builder. The accused would prepare fake Agreements and sell the flats to unsuspecting victims. "While investigating, we found that between 2016 and 2018, the accused looted several people and fled away with Rs 90,41,000; following which, the case was hand over to Crime Unit 4. "During investigation, ASI Udhay Palande got a tip-off about the accused, Vijay, being present at a restaurant at Ulhasnagar," said a police officer. A team of police officers swung into action, arrested the accused and handed him over to Parkside Police Station.
"After understanding the case details, I immediately alerted my sources nearby and within a few days, we received a tip-off that the accused will be present in Ulhasnagar to meet one of his friends. I informed my senior police officers, and along with them, we successfully arrested him from the spot," said Udhay Palande.
'Udhay is one of our best officers. His alertness is commendable. The number of cases he has solved demonstrates the effort he puts in, every time. Each effort is highly appreciated by every team member of our Unit," said an officer attached to Thane Police Department.
Palande has been felicitated on a number of occasions for his outstanding policing and quick detection ability. "Many senior police officers have appreciated and congratulated me for my work. Such recognition is a source of motivation and encouragement to me," said Palande.
Palande visits different police stations in Thane to deliver lectures to new constables on building sources and networking for effective crime detection.
Dabangg Palande
Uday Palande hails from Khed, Ratnagiri, but later shifted based to Pune. His father was an army captain with the Bombay Sappers. Like every father, Mr Palande hoped that his son would join the army, but destiny had something else in store for Palande junior. "My father was my inspiration, and it was because of this that I started boxing; since that was a popular sport in military circles. This gave me a direct entry into the police force on April 2, 1985, when I was just 18 years old," recalled Palande.
What is interesting is that Palande had spent a majority of his 31 year career in fairly routine postings, doing administrative and beat duties at police stations, or carrying out court duty service by escorting under-trial offenders to court. There was nothing glamorous or any crime fighting in these postings, but he still recognised an opportunity. A man of immense curiosity and quick perception, he started utilizing this period to understand history sheeters and their modus operandi. He also cultivated an extensive network among cops and lawyers who had helped him in reaching this mark. "During that period, I would visit the court on a daily basis and build contacts with criminals, advocates, police officers and other people. I learned who the history sheeters were, and who were wanted criminals," said the 52-year-old.
Wanted Robber Arrested after 31 Years on the Run
"Nandasautaram Jadhav – a notorious robber – was declared a wanted man in 1979, but had evaded being arrested till 2012. My sources told me he was holed up in Bhiwandi, so I waited outside his house for five days and finally arrested him. I did not even inform my family where I was during the five-day period," said Palande.
Palande's Impressive Record
Crime Detection             101
Murders                            8
Chain-snatching Incidents 45
Major House Break-ins      40
Motor Vehicle Theft             6
Temple Robberies               2
Cheating                            8
Total major cases till date  431
Achievements
Arrests made since he joined the Ulhasnagar Crime Branch in 2011      431
Number of cash rewards he received from the Police Department for his performance 889
Certificates he has received in appreciation for his work  47
"My wife and kids are my greatest supporters, but they also get angry and upset because I am rarely there for family occasions. They have no idea when I'll get home as I am always out on duty for hours on end. Even if my shift is over, I would get back to work the moment I get a call from an informant," he explained.
Former Thane CP – Param Bir Singh, said, "No one can match his unique working style and performance. There are no words to describe his work ethics. I think he must be the first person in Maharashtra Police to arrest so many accused. During Crime Branch meetings, I would ask him to share secrets on how to solve cases. I also assigned him the job of training cops how to work on the field."
First Arrest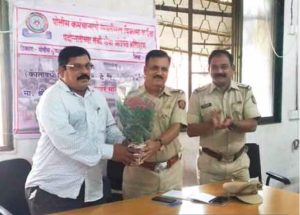 In 2011, Nivruti Patil nearly got away with the murder of his cousin brother. The Mumbra Police registered a case of accidental death after the body was found in a lake. It was Palande who figured out that it was a murder. It turned out that the accused killed his cousin brother after he discovered he was having an affair with his cousin sister (a widow). The accused took the victim fishing, murdered him and then dumped the body in the lake to mislead cops.