Mohit Naik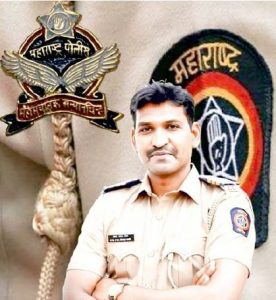 Maharashtra Police salutes police officer Iqbal Sheikh who brought laurels to the State Police Force and raising its standard by winning any laurels at the State and National categories for Best Duty.
There is no shortage of conscientious police officers in the State Police Department. Each one has skills in various fields of duty. As a result, the image of the State Police has brightened in this corner of the world. One of these dashing policemen is police officer Iqbal Sheikh from Sholapur Rural Police, who is attached to the CCTNS (Criminal and Criminal Tracking Network System) section. While performing his duties, Iqbal Sheikh acquired various skills under the Department Competition, Boundary Police Duty Meet, State Level Police Duty Meet, etc. He has, up till now, participated in any State and national Police Duty Meets and won 10 gold, 7 silver, 11 bronze medals and one national award. The Department has honoured him with 20 testimonials.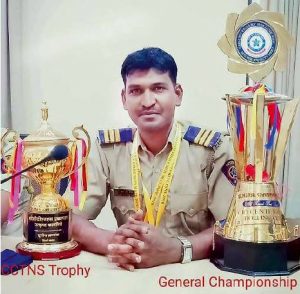 Iqbal Rashid Sheikh was born on June 9, 1984, in the Sholapur district of Maharashtra. His father was attached to the Sholapur Police. He was later transferred to Pandharpur, so Iqbal completed his school and his college education there in 2002. With a policeman for a father, Iqbal was thus raised in a disciplined environment right from an early age. He also developed a fondness for the police force. The allure of being a cop and wearing khaki eventually came to pass in 2003.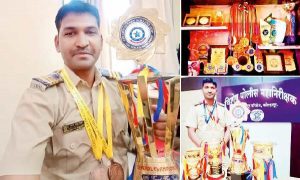 His recruitment process went smoothly under the guidance of the then Superintendent of Police, Kolhapur, K Padmanabhan. After being inducted, Iqbal Sheikh was posted at the Kolhapur District Police Headquarters. While on duty, he had the opportunity to work in the Computer Department. In 2008, he was transferred from Kolhapur to Sholapur Rural Police.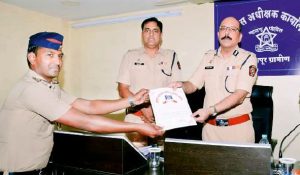 After joining the Sholapur Rural Police Force on June 25, 2008, Iqbal was given charge of the Cyber Cell, Local Crime Branch, Control Room, Computer Department and later the CCTNS project. He competed in Perimeter Police Duty Meets and State Level Police Duty Meets. He also competed at the All India Police Duty Meet where he performed remarkably well.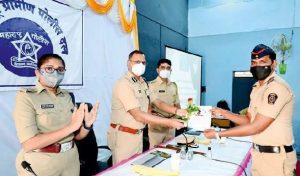 In the 62nd All India Police Duty Fair held in Lucknow in 2019, 1250 policemen from 30 States participated in this competition. Iqbal Sheikh represented Maharashtra Police. He became the first police officer from Maharashtra to win a gold medal in the Scientific Aid to Investigation category. He created a very positive impression of the Maharashtra Police Force across the country as it was the first time Maharashtra won in this general category.
The Chief Minister of Uttar Pradesh, Shri Yogi Adityanath, handed over the coveted prize to the Maharashtra Police Force. As a mark of his achievement, the then Director General of Police, Subodh Kumar Jaiswal announced that Iqbal Sheikh be honoured with the Director-General of Police (Medal). The then Chief Minister, Shri Devendra Fadnavis, and senior police officers like Atul Chandra Kulkarni, Suhas Warke, Manoj Patil, Atul Zende and other dignitaries honoured and gave due recognition to Iqbal.
Thanks to the excellent work done by Iqbal Sheikh and his colleagues under the guidance of the Upper Superintendent of Police, Atul Zende, and other senior police officers, the CCTNS Department of Sholapur Rural is the first well-performed Control Room and Computer Department in the District, and number three in the State.
Iqbal says that the NCRB organises competitions of all the District Cyber Cells to know the functioning of the Cell and the actual ground reality of cybercrime in their respective areas. Maharashtra competed in six categories. Among these entries, along with Police Inspector Pande and Police Naik Kulkarni (Pune), Iqbal topped the national level competition.
"I have been working with the Cyber Cell for the last ten years. Through my 15-page PowerPoint presentation, I tried to explain the way we function, style of working, results achieved, and so on. Fortunately for us, we received the highest points and were placed at the top position. I feel blessed that senior officers like Vishwas Nagare Patilji, Veeresh Prabhuji, and Tejaswini Satputeji have honoured me for my work. I will try my best to keep up my good work and their high expectations from me," said Iqbal.
Maharashtra's then Home Minister, Shri Anil Deshmukh, congratulated Iqbal and the other officers on his Facebook page and expressed happiness over this excellent performance. The then Director General of Police, IPS Subodh Kumar, gave a cash prize of Rs One Lakh to Iqbal for bringing laurels to Maharashtra Police.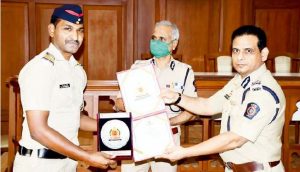 Shaikh is not only dedicated to his work, but he is also someone who would go the extra mile for anyone in need. His large-heartedness was seen when he took the initiative to raise funds for one of his colleagues who lost his life in the line of duty during the pandemic. Police Naik Zahkir Shaikh who was attached to the Transport Department in Sholapur City, lost his life after he was infected with the virus while doing his duty. Iqbal, who was closely associated to Zahkir, raised funds from among his batch mates. He received a tremendous response from them and was able to help Zahkir's family with an amount of Rs 1, 55,000.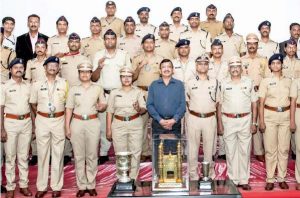 Iqbal is truly indeed 'a friend in need is a friend in deed'.
Iqbal does not rest on his laurels. He also delivers lectures in several police recruitment classes, free of cost. He would talk on the importance of policing in today's world and cracking competitive exams with proper time management.
"Policing is my passion, and as a police officer, I try my best to help the society in any way I can," says Iqbal.
Police Constable Gajanan Mali proudly says, "Our colleague, Iqbal, has made us proud by winning first place for our district at the national level competition. It shows his labour of love, dedication and sincerity towards his duty."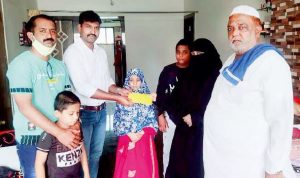 While talking to the Protector magazine, Iqbal Shaikh said, "My wife, Afreen, and my two children, Aabid and Aaliya, are my greatest supporters. I would not have been able to achieve all this without their support, love and affection." He is also a role model for his children and both of them, have, even at a young age decided that they are going to serve the nation just as their father is doing. "My son wants to become an IAS officer while my daughter wants to become a doctor. I will try my best to fulfill their dreams and to uphold the pride of the nation," says the proud father.