Highways connect different States across the country. There are 10,088 National Highways and several State Highways running over a total length of 33,705 km. They bear the load of lakhs of vehicles that ply on a daily basis. Accidents occur frequently due to various reasons like natural calamities or human error.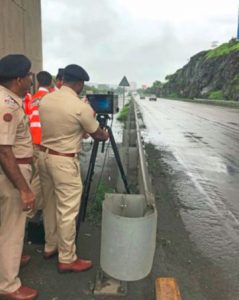 The Highway Police is a specialised department that monitors and supervises vehicular traffic, ensuring that rules and regulations are followed so that   travelling on highways is safe. According to statistics, there are 63 traffic aid posts in Maharashtra that regulate, monitor and control the daily movement on the highways. With a force of 2355, the State Highway Police is all set to rule the highways.
Highways Safety Police was established in March 1989 with 23 aid posts. The posts were controlled and managed by the District Superintendent of Police (DSP) and Deputy Inspector General of Police (DIG). Gradually, the numbers increased and 49 TAPs were created.
Mission
The Highway Police is a dedicated force with creative, trustworthy and enterprising approach. It is a forward-looking, action-oriented organization committed to harnessing its knowledge and energy towards making highways safe and secure for travel. It strives to reduce accidents, render instant help to accident victims and ensure smooth flow of traffic through constant vigilance. It hopes to succeed in its endeavour through educating drivers, motorist and all road users. It is dedicated to accomplish its task with sustained performance over time to the fullest satisfaction of the public.
Duties
Patrol the National and State Highways under its jurisdiction and make cases on NH-4 and the Express Highways as per the GR dated 30/08/2000.
Patrol the twelve National Highways (4417 NH), 291 State Highways – 33165 kms in the State.
Help accident victims.
Guide travellers and passengers.
Remove vehicles that have broken down and clear obstructions with the help of other departments and NGOs.
Traffic regulation at accident spots.
Search vehicles involved in crime and accidents.
Keep a check on terrorist activities by checking dhabas, petrol pumps, hotels etc.
Prepare cases on the National and State Highways in the jurisdictions.
Rescue Operation
The number of accident cases has been on the rise over the years. The Highway Police has been trying to spread awareness about safety norms that should be followed.
As per the Highways Traffic Police, following are the guidelines to care for accident victims:
It is said that there is nothing called, "on the spot death". Medical practitioners believe that 98% of the injured can be saved if medical help is provided on time.
Medically, according to 'golden hour' concept, it is proven that the first one hour after the accident is most critical. And, if medical help reaches within this hour, most injured can be saved.
Well-equipped ambulances with trained staff and core practitioners are required along highway network.
A close coordination of health department, highway authorities, transport authorities, police and NGOs is required so that instant relief can be provided to accident victims.
Transport authorities should ensure that driving licence is given after due scrutiny with thorough check up of physical and mental well-being.
Safety Initiatives
Recently, under the supervision of ADGP (Traffic) – Vinay Kargaonkar, and   SP (Thane Highway) Rupali Ambure, a road safety initiative was conducted where thousands of commuters were informed about the importance of road safety and safety norms. An awareness campaign was also conducted at regional school colleges and RTO departments.
Accident cases have spiralled over the years. Understanding the danger, the State Highway Department has tightened  its belt and swung into action.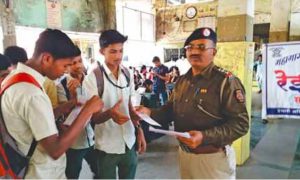 "Last month we had conducted a road safety initiative to educate people about traffic rules and regulations. Accidents generally occur due to breaking of rules, over-speeding, rash driving and drunk driving. We had formed a team of police personnel and the responsibilities were split among them. A team of officers were assigned the task of catching defaulters. They were then explained about road safety.  Another team was assigned to reach out to schools," said SP Rupali Ambure.
"Educating the youth is our priority, since they are the future drivers. Road safety is a topic that needs to be understood by one and all. Even a small mistake while driving can put so many lives in danger," said a police officer attached to the Highway Police Department.
The Department also targeted biker groups on highways and informed them about rules and regulations. "Highways have their own rules that need to be followed. We also check bus drivers since they travel with so many passengers. One mistake could endanger lives of so many," said Rupali Ambure.
"Road safety rules and regulations are devised to be followed. Road safety week is an initiative that has been working towards educating the citizens through a variety of programmes related to road safety. Safety while driving on highways should be the first priority," Ambure added.
Citizen Quotes
"I am not a regular commuter on highways. Sometime back, I took my car to my native place. A team of police officers caught me for lane changing. They explained that I need to follow the rules and I was fined for flouting them. It's good to see cops available on the highways as they are accident-prone. Thumbs up to the Highway Police,"said Sushant Patil, Commuter.
"While driving from Mumbai to Pune last year, we encountered a heavy traffic jam which took place due to a truck accident on one of the lanes. The Highway Police immediately swung into action. The truck was moved and traffic was cleared in a short time," said Karishma Nair, TCS employee.