The Thane city police crime branch unit-1, successfully arrested four persons in two different incidents, registered under their jurisdiction for carrying old denomination notes of Rs. 1000 and Rs.500 respectively. The cops claim to have seized Rs. 96 lakhs.
According to the police, following demonetisation high denomination old notes of Rs.500 & Rs. 1000 have been declared invalid for transaction by the central government. And with stringent limits on the exchange, withdrawal and deposit amounts in the banks, the hoarders of black money have been suddenly trapped and caught off-guard.
Since a fixed sum of old currency could only be exchanged for a limited time period of time or deposited in the banks by the accountholders, exchanging of old currency with new currency became a herculean task for the hoarders, leading to proliferation of currency related crimes.
Several cases of currency related crimes have been surfacing ever since demonetization. In one of the recent incidents on February 25, police inspector Sandeep Bagu,received a tip-off about a white Ertiga car bearing number MH 04 F R 3277 carrying old denomination notes for exchange with new currency notes near Chintamani Jewellers, Jambara Naka, Thane. Based on the clue, a trap was laid near the Naka where the cops intercepted the car and arrested four persons and seized Rs. 46 lakhs in their custody.
"As per the tip-off, we laid the trap and seized the old denomination notes that were brought to be exchanged with new notes. We have seized 2450 notes of Rs. 1000 and 4300 notes of Rs. 500 respectively. The persons arrested have been identified as Dayashankar Yadav (28), Pankaj Goyal (40) and Sunil Bhanushali (29)," said a police officer in charge of investigation.
In an another incident, senior police inspector Nitin Thackeray got a tip-off from his confidential sources about a person riding Honda shine bike bearing number MH 03 CA 1722 ,carrying old currency notes and likely to travel near Golden-dice bridge.  A well planned trap was laid down and one person identified as Chetan Randhawa (36) was arrested.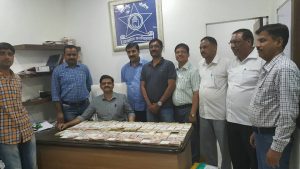 "We have seized 9990 notes of Rs. 500 denomination and one note of Rs. 1000. The bike has also been seized for further investigation. Acting on the alert, our officials got on to their toes, laid a trap and arrested the person. A sum of Rs. 96 lakhs was seized in these cases. Further investigation is in progress. Since demonetisation several such cases have come to light and cops have seized crores of rupees." said Thackeray.
Mohit Naik