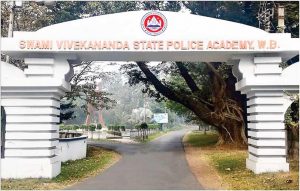 Training is an important tool for cops to meet any new challenges with more competence and professionalism. Imparting training to police personnel by competent  trainers in a suitable learning environment helps to cultivate right values, develop positive attitude and confidence to equip them and consequently serve the society better. The qualities that associate with Men in Khaki are discipline, acumen and sacrifice. But those values do not inculcate in one day. It is the training and schooling of these people that sets them up. Swami Vivekananda State Police Academy (SVSPA) is such an institution situated at Barrackpore which is the seedbed for future cops.
Origin and Development ofSVSPA, West Bengal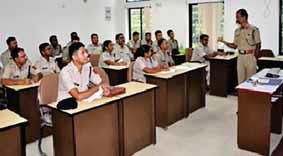 The Swami Vivekananda State Police Academy (SVSPA) is the state level police training institution catering to the training needs of West Bengal Police and Kolkata Police. The Academy conducts basic training for DSP Probationers, Cadet Sub-Inspectors of both Armed & Un-Armed branches and Recruit Constables for West Bengal Police and also for Warders and Inspectors of Correctional Services, Sub- Inspectors and Sergeants of Kolkata Police. The Academy also conducts Pre-promotional training for Constables, Asst. SI's and SI's for their promotion to the next rank besides conducting various short in- service training courses on different professional issues.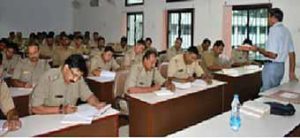 The Police Act, 1861 (Act V of 1861) laid the foundation of organized and formal policing in the pre-independent India. In around 1893, experimental course of instructions limited to a period of two months was tried in Dhaka. Later in the Police Training School at Bhagalpur (now in Bihar) was approved. As per recommendations of the Indian Police Commission 1902-03, a Police Training School was set up  at  Mill  Barracks, Dhaka which functioned till 1913.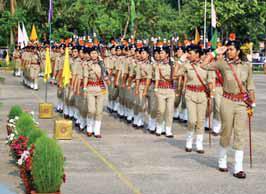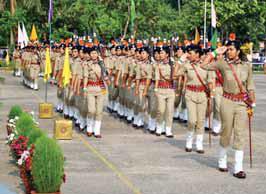 Partition of Bengal in 1905 and its annulment in 1911 resulted in a newly created province of Bihar and as the police training college at Bhagalpur was left out of Bengal province, a new Police Training College at Sardah (Rajshahi district, now in Bangladesh) was established in 1912 which continued to be the main training institution for police in Bengal till the country's Independence.  A small set up known as Barrackpore Training Centre (BTC), located within present campus at Barrackpore Police Lines functioned as an adjunct to the main training institution.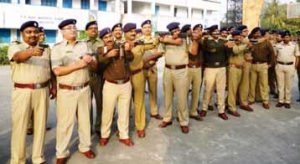 After the Independence, Police Training College for West Bengal Police was sanctioned in 1948 to function from the present location at Barrackpore and the previous Barrackpore Training Centre (BTC) was merged with it in 1949 and subsequently Police Training College (PTC), Barrackpore came into existence. Later the Police Training  Centre at Bankura was also amalgamated with the Police Training College. Every year, 11th April is celebrated as the Foundation Day. The PTC Barrackpore was renamed as Swami Vivekananda State Police Academy in August 2011.
The need for additional training capacity paved the way for setting up of Subsidiary Training Centres (STCs) at EFR Salua, SAP 4th Bn. Kasba and SAP 9th Bn. Sandhya. Subsequently separate setup for these STCs within the same campus was sanctioned. Further, the STC at Barjora within the campus of SAP 13th Bn, STC at Charra within the campus of SAP 11th Bn, and PTS at Salua within thecampus of EFR 1st Bn are also undergoing completion.
According to Director K Jayaraman, "SVSPA is in the endeavour of shaping young minds into police professionals ever since it emerged as Police Training College in the year 1948. We have packed training activities throughout the year and conduct various in-service training courses in association with Bureau of Police Research and Development (BPR&D) and UNICEF."
Police Training Manual
Previously the functioning of SVSPA was guided by the Bengal Police Training Manual 1936, which was outdated and archaic in nature. This Academy is now entrusted to organize and conduct various types of training courses including basic training, pre-promotional and in-service training for different ranks of state police and other knowledge related subjects. Administrative  and  other miscellaneous affairs of this institution have also been changed with the demands of the time. Considering this aspect, the Bengal Police Training Manual 1936 was thoroughly revised and Police Training Manual 2014 was introduced for the effective functioning of SVSPA.
Functional Status of Training Branch

Director General of Police (Training), West Bengal, heads the Training Branch of West Bengal Police, which is entrusted to deal with matters of police training administration subject to Rules, Government Orders, standing orders, etc. DGP (Training) exercises functional supervision over all police training institutions in West Bengal Police assisted by the ADGP (Training) and the IGP (Training). DGP (Training) is the chief inspecting officer of the police training institutions in West Bengal Police and along with
ADGP (Training) and IGP (Training), plans the annual inspection programme for these institutions. SVSPA, Barrackpore, headed by the Director is the main training institution of West Bengal Police. Subsidiary Training Centres (STCs) have been set up at different places for decentralization of institutional training facility and also for capacity building of constables. These STCs are under supervision & control of Director of SVSPA, Barrackpore. Supervisory officers of the Training Branch continuously endeavour to promote and strengthen the vision, mission, objective & policy of police training in the state.
SVSPA is well equipped with in-house faculty members both for academic indoor training and outdoor training. Besides, a number of eminent faculty members from different disciplines take classes for the training programs. These include academicians, experts from Forensic Science Medicine, scientific officers/experts from Forensic Science Laboratory (FSL) & Central Forensic Science Laboratory (CFSL), lawyers, judicial  officers  and  senior police officers.
By Our Correspondent