A new resource centre has been set up by Dy. SP – Atul Kulkarni, at Mira Road –
Bhayender Police Station under the guidance of SP Thane (Rural) – Shivaji Rathod, and Sp. IG – Konkan Range, Nawal Bajaj.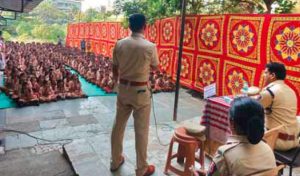 With accessibility to technology and its adaption by citizens, reaching out to a large number of people, simultaneously, has become simpler. The police department is certainly seeing the merits of using technology as a medium of disseminating information instantly, and to a larger audience. Hence, it has become proactive on social media and using the various channels of communication for this very purpose.
Human trafficking cases are on the rise. The State Police Department has been requesting police personnel to use social media for creating awareness among citizens about human trafficking and cyber crimes. In the last issue of Mumbai Protector, we had featured the Dy. SP of Mira Road Bhayender Police Station – Atul Kulkarni, Kulkarni, an engineer in Computer Science, is an 2014 batch IPS officer with vast experience of working with NGOs. He said that cyber crime will be the greatest challenge for the police and the society in the coming years. It is therefore important that citizens and the police are well- informed about it.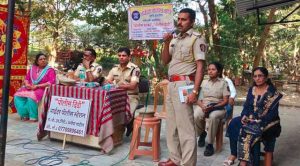 A new police resource centre for investigation of online crimes was recently set up in in his jurisdiction at Mira-Bhayander, under the supervision of SP – Shivaji Rathod, Thane Rural, and Sp. IGP (Konkan Range) Nawal Bajaj.
With the rapid adoption of digitalisation, cyber crime has grown manifold. The resource centre will equip the police in techniques to investigate human trafficking cases of children and women.
In 2018, Sp. IGP – Law and Order, Mumbai – Quaiser Khalid, had also proposed to set up such a centre. Taking the proposal forward, the Asst. SP – Thane Rural, Atul Kulkarni, decided to establish the Centre within his jurisdiction.
Police Resource Centre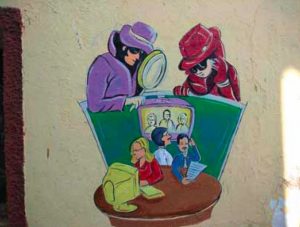 The Centre is set up to fight online crimes, primarily trafficking of minors in the suburban districts. The officers in charge of the Centre are being imparted technical training by the International Justice Mission (IJM), an anti-human trafficking body. The officers will be trained with the help of latest technology. The trained officers will then train other police officers of Maharashtra.
"The system feels the need to establish a space that will serve as a resource hub to enable focused investigations of cyber-enabled crimes. Data management and analysis of both crime and criminals is crucial if we have to crack down on criminal networks," says Director of Justice Solutions, IJM, Melissa Walavalkar.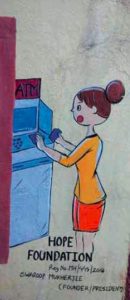 The Centre is equipped with a library of case studies and experts that provide technical support for the analysis of online trafficking crimes. A legal resource will also be available to the police staff at the Centre.
"The 25-member Centre will be staffed to provide mentoring for methods of investigation, research, data collation, documentation, and coordination between different AHTUs in the Konkan Region. It will soon get software that will allow the centralisation of data on sex-trafficking related cases. The Centre is open to train cops from nearby commissionerates to combat cases of child trafficking in Mumbai, Thane and Palghar district. It will serve as a nerve centre for all sex-trafficking cases being handled by Anti-Human Trafficking Units (AHTU) and local police stations in the Konkan Region. All data related to trafficking will be documented for analytical and reporting purposes here," said Nawal Bajaj.
Police Didi and Police Kaka Initiatives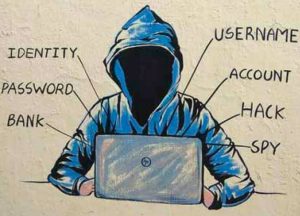 A few months back, Atul Kulkarni had launched 'Police Didi' and 'Police Kaka' initiatives through which cops have managed to successfully reach several schools in their jurisdiction. Students are being educated about cyber crime, ragging, bullying and other types of harassment. "Our team of police officers are reaching out to local schools and are having conversation with the students and guiding them on do's and don'ts. Complaint boxes have been placed at schools where students can report their complaints," said Kulkarni.
Police Didi initiative has been active at several police stations in Mumbai and several other districts of Maharashtra. It was recently adopted by the twin city, Mira-Bhayander. Under this initiative, police personnel – from constables to senior police officers, are assigned the role of Police Kaka for a particular education institution based on regional police jurisdiction. Similarly, one female personnel is shortlisted to handle the task of Police Didi for each of the schools and colleges to establish a friendly rapport with the girl students.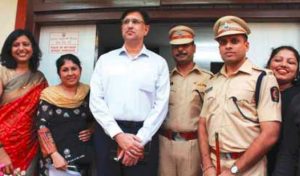 "The dedicated Police Kakas and Police Didis basically play the role of 'buddy cops' for students. They visit the educational premises on a regular basis. Their names, designation and phone numbers are displayed on the notice boards of these educational institutes," informed Dy. SP – Atul Kulkarni. Students can share their complaints like ragging, bullying, eve-teasing, and stalking or any other type of harassment they face.
by Mohit Naik