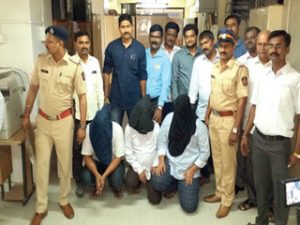 In a major breakthrough the cops of Nehru Nagar, Tilak Nagar and Govandi have nabbed quacks who were allegedly involved in treating patients through You Tube. The police have recovered their fake M.B.B.S degrees and arrested three accused identified as Zahir Sheikh (35), Farman Baig (21) and Asif Shaikh (47).
Death triggered investigations
The investigation was triggered with the death of 25-year-old Pradeep Jadhav, a resident of Gandhi Nagar, Deonar. The deceased had approached Dr. Shahbaz Alam Siddiqui since he was sick but due to wrong diagnosis, Jadhav was pronounced dead in a private hospital. The disgusted and aggrieved family of the deceased approached nearby police station and filed a complaint against Siddiqui. During the interrogation, Siddiqui revealed that he had studied only till class XII and had been practicing medicine since several years.
A four member police team led by Shahaji Umap (DCP Zone 6) was created to nab quacks who were misleading the society. The team members parted ways and spread across the areas of Nehru Nagar, Tilak Nagar, Govandi and Mankhurd by posing as patients to trap the quacks. "During the investigations, the police found three people who were practicing medicines without requisite qualifications.  They had either forged certificates or used credentials of others. On interrogation, they failed to provide authentic documents," the cops said.
While briefing to press, Shahaji Umap, (DCP Zone 6), said "In a move to nab the quacks, we formed a police investigating team .Within a month, we arrested three people who were practicing medicine with fake documents and were treating patients with the help of You Tube. The accused Zahir, who had studied till class XII, held certificates in the name of Kripashankar Mishra who is actually a management studies graduate. In an  another operation, the accused Baig, who was arrested by the Govandi police, practiced medicine at NG Acharya Marg in Chembur in the  name of Dr. A Ansari, a practitioner of Unani medicines. A class IX passout, he allegedly used spurious drugs.
And the third accused, Asif Hussain Shaikh, a class VIII dropout, was arrested by Tilak Nagar police. During a raid at Dr. Arshad Jafri's clinic, the policemen found Asif who was practicing medicine in the clinic without any medical qualification.
The arrested accused have been charged under sections 419 (impersonation), 420 (cheating) of the IPC and sections 33 & 36 of the Medical Practitioners Act. Further investigation is underway.
Nitesh Poojari