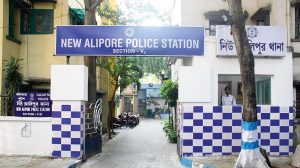 New Alipore in south Kolkata is one of the posh areas in the city. Naturally there has been a lack of so called Para Culture, which is evident in north Kolkata. Yet, it is the need of the hour to be alert enough and the police station appreciates alertness of the locals.
Jurisdiction:
North: Diamond Harbour Road,Eastern Railway track towards Budge Budge
South:  Tollygunge  Circular Road (upto Tolly Nullah)
East: Circular Railway track at Majherhat (partial and one side)
West: S. N. Roy Road (excluding street)
Area Prole: The area of New Alipore  Police  Station  is  only1.75 sq. k.m but of immense important for its demographic pattern. The population of the area is approximately two lakhs but is very important because of the habitation of the elites and sophisticated people. New Alipore is considered as one of the loveliest place to live in the southern part of the city because of its clean and unrufed environment. The locality here is planned unlike north and central part of the city. Town Planning for modern age has been manifested here as this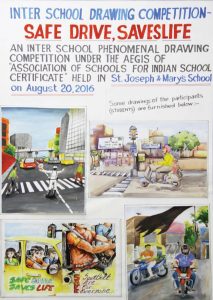 neighbuorhood is developed much later than the north, central and south Kolkata. Most of the residents are not only well educated, cultured and well placed but also very inuential because of their individual identity. A few of such high prole residents are Minister Arup Biswas, Supreme Court Judge Justice (retired) Ruma Paul, actor-actresses  like  Jeet, Indrani Halder, Sabitri Chatterjee, Saharukh Kapoor, soccer coach Subhas Bhowmik. Besides, many retired IPS, IRS; renowned doctors are the permanent residents of this area. Although there are Sahapur Colony and slums near Durgapur Bridge and Chetla in the area, still there has been no major law and order problem so far. Majority of the population are by faith Hindu but there are other communities too live in the area. Communal harmony, peace and democratic fabric prevail in the locality and people live  here  in  amity.  There  is  amosque and mazaar in Masjid Para and people of the minority communities actively participate in Durga Puja- – the biggest festival in the city. There is one Radhagobinda Temple of Mondal Community at Temple Lane. DAV Public School, Vidyabharati High School, New Alipore Multipurpose School, Savitri Vidyapith and Sarada Ashram Balika Vidyalaya and New Alipore College are some of  the  renowned educational institutions located in the jurisdiction of this police station. B P Poddar Hospital, Geeta Bose Memorial Blind Hospital and Hope Foundation are located there.
Challenges: It is a major challenge for New Alipore Police Station to prevent crimes like snatching and eve teasing particularly when a good number of residents go for morning and evening walk. Rufans from Ekbalpore and Mominpur gather here to commit such crimes. However, they could not be successful due to rapid patrolling and surveillance. No major crime is reported from the area. However, complaints regarding Domestic Violence, crime under Sec 498A and eve teasing are recorded and the complaints are accordingly dealt with. Crowd management and maintenance of law and order during Durga Puja is another challenge for New Alipore Police Station as most of the pandal hoppers hardly want to miss visiting Suruchi Sangha puja every year.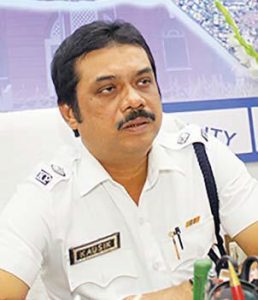 Policing: Night  Patrolling is being carried out by the personnel of this police station and sometimes even in unusual ways, which act as a surprise for the anti-socials. Besides, patrolling through Rapid Control Patrol (RCP) and motor cycle team, plain-clothed policemen also keep eyes on the elements those have criminal antecedents. They also gather intelligence input through their local network and act accordingly.  Regular morning and evening  patrols  preventsnatching, burglary, eve teasing, speed biking and other notorious activities. Recently, Ofcers of this police station arrested goons from Azamgarh in Uttar Pradesh for kidnapping a citizen and demand of ransom. Claiming that they were members of the D Company, the hoodlums called up the victim and threatened to face dire consequences if not their demand fullled. There is a Kiosk near Majherhat Bridge which is manned by police personnel 24×7. There has been a plan to set up a shelter for birds (Pakhiralaya).Talks are on with the KMC in this connection.
Beyond Policing: The blood donation camp – Probaho is organized as usual. An ASI is delegated to attend phone calls of senior citizens and Pronam members and extend assistance to them. We do help and extend our assistance to elderly persons even though some of them are from other police station areas. During Durga puja this police station makes all possible arrangements  for  local  senior citizens and Pronam members to visit pandals. A sit and draw competition on Road Safety was organised. A rally on Anti Drug Day and a detoxication camp was  organized in association with a NGO.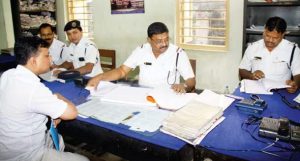 Trivia: Kaushik Das – a 1993-94 batch Sub Inspector after training at Swami Vivekananda State Police Academy erstwhile Police Training College joined Muchipara Police Station and worked there for four and half years and then he had a routine transfer in 1998 and joined at Jorasanko Police Station. After one and a half years he was transferred to Shyampukur Police Station in 2000 and worked there for more than four years. In 2005, he was transferred to Tala Police Station and worked there for a year and in 2006 he was transferred to Port Division and worked at West Port and South Port Police Station respectively for another three years. In 2009 he was posted at Motor Theft Section under Detective Department, Lalbazar and discharged his duties for a year. He became Inspector in 2011 and was posted at Special Task Force (STF). Then he was transferred to Garfa Police Station with the charge of Addl. OC and worked there for a year. In 2014 he joined at Jorasanko Police Station as Addl. OC and in March, 2015 he was transferred to New Alipore Police Station as Ofcer in Charge.
Present Strength:
Inspector- 2, Sub Inspectors- 9, Lady Sub Inspector– 1, Sergeant– 1, Assistant Sub Inspector- 17, Lady Sub Inspector- 1, Constable- 48, Lady Constable– 3, Home Guard- 21, Lady Home Guard– 3, Civic Volunteer- 6, Lady Civic Volunteer– 5
New Alipore Police Station 494 & 495 Block- M, Kolkata 700 053 Phone No: 2400-2943
Abhijit Chatterjee