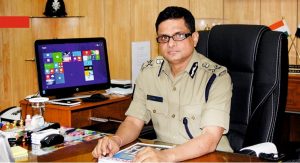 New  Year  is  the  harbinger  of new hopes and brings in fresh ideas, resolutions to make new moves and introspection for ensuring better tomorrows in a rather comfortable surrounding with people.
City police encounters growing challenges round the year. However, we have successfully managed every situation during 2016. As always, the last two- three months of the outgoing year was quite hectic for this megacity as it witnessed several important events like the grand Durga Puja festival, Eid and Diwali. Kolkata Police received a special pat from  the  Chief Minister for successful arrangement of rst-ever Durga idol immersion carnival at Red Road . This vibrantcity witnessed  another  bravura even 22nd Kolkata 
International  Film  Festival which was attended by many celebrities from Bollywood, Tollywood and foreign delegates.
Commitment follows , responsibility grows as we surge ahead in this challenging world. We are vigilant enough; still a minor lapse or human error can fuel the situation and a small incident may at times turn into a bigger problem. Thus, there is no room for resting with the situation which has to be nipped in the bud. And we did it.
It is worthwhile to mention that colleagues of Ultadanga Trafc Guard have made us proud by facilitating  a  'Green  Corridor' for transporting delicate cadaveric organs from a private hospital at E M Bypass to SSKM
Hospital and Disha  Eye Hospital. They reached the destination within record time of 13 minutes , covering a distance of about 18kms.
Some recent arrests, detection and tracking have enhanced the glory of Kolkata  Police.  Drug dealers with contrabands arrested by the sleuths of Narcotic Cell, the arrest of four accused within 48 hours of the killing of a construction worker in Beniapukurarea are praiseworthy. These are in a nutshell, result of the round the clock efforts put in by the men in uniform.
I am condent that the Men in White will continue to hold its ag high in the coming days. Let us all join hands in ensuring the well being of the city.
Jai Hind!
Rajeev Kumar, IPS