The city of Palghar came into existence on August 01, 2014. The creation of a new district was approved by the cabinet of Maharashtra on June 13, 2014. The struggle and demand of the people, which lasted for nearly 25 years led to the bifurcation of Thane and formation of Palghar district. Palghar district, with six assembly constituencies- Dahanu, Vikramgadh, Palghar, Boisar, Nalasopara and Vasai- has a population of around 30 lakhs, according to a government document. The census of 2011 statistics show that Palghar district had a huge population of 29, 90,116 citizens. Palghar police station was therefore set up to maintain law and order in 2014.
Abhijit S. Bangar was the first district collector where as Suvez Haque was the first Superintendent of Police (SP) of the district. The district police department at present is headed by IPS Sharda Raut.
Palghar has an urban population of 14,35,210 that is 48% of total population in the area. It comprises of eight taluk as of which Vasai- Virar is one of the most developing taluka with an increasing number of migrants from different parts of the city. According to the census report of 2001, the taluka had a population of approximately 7,95,863 whereas in 2011, the figures have jumped to 13,43,303. This is the reason why safety has become an important issue.
Organisational Set-up
The district is headed by SP (Superintendent of Police) who is assisted by two additional SP's. Each taluka of the district is headed by Sub- Divisional Police Officer (SDPO).
The Vasai- Virar taluka in the Palghar district has seven police stations Vasai, Manikpur, Valiv, Virar, Nalasopara, Tulinj and Arnala police station. Under this jurisdiction each police station has a Senior Police Inspector (SPI), Asst.Police Inspector (API) and a dozen of police officers working under it.
Vasai police station

With a population of over 1,20,826 citizens under its jurisdiction, the police station is headed by a senior officer and 51 police officials under him. The police station is spread over an area of 40.26 km and consists of 24 villages. Since Vasai police station has a large area under its jurisdiction, it becomes hectic for the police officers. The crime ratio in the area has also increased in comparison to last year. The common crimes taking place in the area are murder, dacoit and rape. "With a team of 51 police officials we try our best to tackle any crime and solve the case in the shortest period of time," said a police officer attached to Vasai Police Station.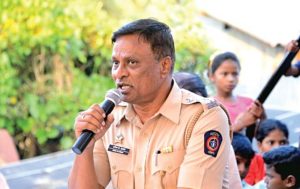 Manikpur police station
The Manikpur police station has a population of 1,54,114 citizens under its jurisdiction. It is looked after by six senior police officials and 76 police staff attached to the police station. The jurisdiction includes six villages (A-category- 02, B-category- 04).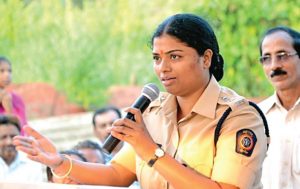 'Earlier six villages were under our jurisdiction, most of the time the cases were solved at the Panchayat level. People approach expecting help from us. It is our responsibility to find solution to their problems. With a team strength of seventy six police personnel, we try to solve most of the cases and provide justice to localities', said a senior police official.
Waliv police station
As per the census of 2001, the Waliv police station located at Vasai (east) is spread over an area of 152.53 sq.Km. With a population of approximately 2 lakh under its jurisdiction, tackling the crime ratio has become an important issue for the local cops. Police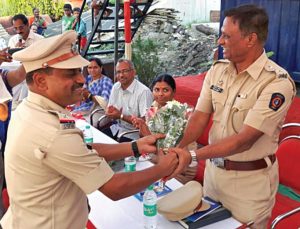 Inspector (PI) Mahesh Patil is incharge of this police station. The migration rate to Vasai has risen significantly due to massive development activity in the area. Several new development projects are in various stages of completion, and so more and more people are migrating to this town. "The security of the local citizens is our main motto. With increasing population safety has become a matter of grave concern. Murder, property dispute, rape are some of the common crimes reported in our police station. "In-depth understanding of cases with relevant case laws is very important and this is what we believe in," said a police officer attached to Waliv police station.
Nalasopara police station
As per survey, Nalasopara police station is one of the busiest police stations. The crime ratio in this police station is on the rise. Murder, rape, robbery are some of the common crimes registered in this police station. With a team of 74 police officers that includes 13 senior
police officers, Nalasopara police is all set to curb the crime inits jurisdiction. Headed by senior police inspector – (PI) Ravindra Badgujar, this police station has a population of 1,25,677 to lookafter. 'Migration is the reason for the increasing crime in the city. The population has multiplied atleast two fold since census of 2001.The team of police officers are always ready to look after every case registered with us. And we try out level best to bring the accused to books' said police officials.
Arnala police station
Headed by senior police inspector, Kerubhai Kole, Arnala police station is located at Aagashi road, Virar. The police station has a strength of 53 police officers that includes one Police Sub Inspector (PSI), Assistant Police Inspector (API) and a lady API leading the team. The police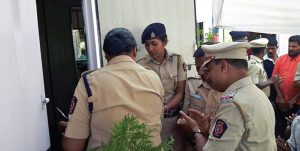 station spread over an area of 10.30 sq.km has a population of approximately 1,07,198 citizens. Arnala being a coastal area, the police station has three coastal check posts, Olanada, Satpala and Kanlab. It has twelve villages in its control. Arnala beach being a tourist spot, several commuters and tourists visit the place frequently. It therefore becomes important that all safety and security measures are in place. "The number of tourists travelling to Virar for a quality time at the beach side has been on the rise. For their safety, we have a team of police officials and police beat marshals- always alert and ready. The crime ratio registered is low compared to other police stations," said a police official.
Virar police station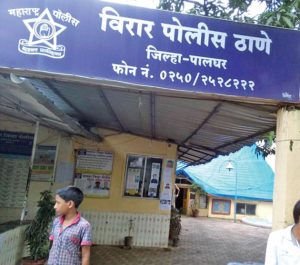 The Virar police station has a population of almost 3.92 lakh inits jurisdiction; Virar police which is spread over an area of 74.48 sq.km has an officer strength of 104 which includes 18 senior officers. Headed by senior police officer, Yunus Shaikh this police station has higher number of officers working under it. 'Since the population is increasing, we need more man power to handle it, hence the number of police officers are more at Virar police station in comparison to others. "Robbery, murder, dacoity etc. are some of the cases registered in our jurisdiction. We try our level best to solve all the cases in a short period of time and provide justice to the people or victims suffering. People should not fear cops; we are here to help them. Unless they come forward and register their complaints it will not be possible for us to act upon them," said a police official.
Tulinj Police station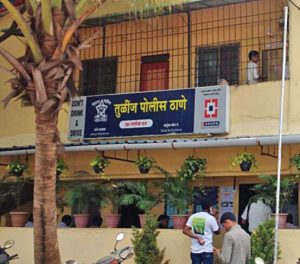 Spread in an area of 44sq.km, Tulinj police station located at Nalasopara (east) is the second biggest police station with 100 police personnel attached to it. Headed by Prakash Birajdar, this police station covers a large population of 3,56,705 citizens. The police force is guided by one PSI, two Asst. PSI and a lady Asst. PSI. 'Lady police are especially available for women. In several cases like rape, molestation etc. the lady victim feels uncomfortable to express the case to policemen'. Police teams are set up to analyse the case. Another team also known as Beat Marshal (BM) are on the regular round. They are also put on duty at crowded places so that they can tackle if any such situation arises," said police officer attached to Tulinj police station.
New Initiatives
Technical cell :
Advanced technical cell developed by Palghar Police which includes three sub cells.
a. Cyber Cell: For giving technical support to all police stations in investigation of Cyber Crimes & Cyber Application.
b. Interception Cell: Interception of Landline phones & Mobile phones in Critical cases.
Web Cell: Web cell developed a website for global view of Palghar Police & it is updating every day.
GPS vehicle tracking system: Palghar police has installed GPS system on 100 vehicles (4 wheelers & 2 wheelers)
The Importance of GPS Vehicle Tracking System
Fleet management
Asset tracking
Field service management
Real- time locations
Vehicle tracking
Surveillance
Transit tracking
Fuel monitoring
Distance calculation
Stolen vehicle recovery
– Palghar Police