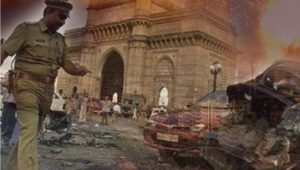 Blast; Justice served after 24 years The judgment, which came 24 years after a special court was set up immediately after the terror attack in March 1993, sentenced two convicts to death. Another two were given life imprisonment, including international gangster Abu Salem.

One may forget the hidden beauty of Bombay but not the world's first large-scale coordinated terror attack which took place on 12 March 1993 which emerged in the history of world as 'Black Friday'. A series of bomb blast that ripped through Bombay which is known as Mumbai now, killing 257 people and leaving 713 injured, a special court Thursday handed the death penalty to two of the accused and life imprisonment to two more, including extradited gangster Abu Salem.
Large Scale coordinated terror attack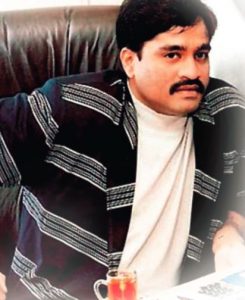 The serial blasts were a conspiracy by Mumbai's underworld kingpin Dawood Ibrahim to set off a fresh round of violence against the Hindu community. The plan was also to ship consignments of RDX, AK-56 rifles and hand-grenades into the city, to build bombs and arm petty criminals.
How Mumbai Police cracked the case
An over  150-member  team  of the  Mumbai  police  force  was set up under the command of Rakesh Maria, the then Deputy Commissioner of Police. On the day of the blasts, the police found an abandoned scooter in Mahim with RDX which did not explode and a Maruti van packed with grenades and weapons. The van was registered in the name of a Rubina Memon, who lived in Mahim. On reaching her address, the police found it locked. They had left India two days prior to the bombings.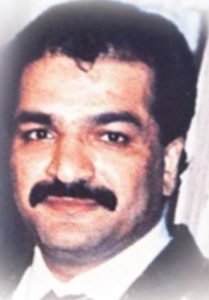 Inside the house, Maria found a key that matched the unexploded scooter, which helped him  zero in on the Memons: Abdul Razak Memon  and  his  five  sons,  Tiger, akub, Suleiman, Essa, Yusuf and Ayub. Tiger,  the  oldest  son,  was a smuggler and henchman for Dawood.
The police searched the country, hauling in  suspects  that  matched a pattern based on previous intelligence reports of weapon consignments coming to India, which they had received but ignored. Finally, two suspects turned approvers and confessed minute details of the planning. They walked free in 2007.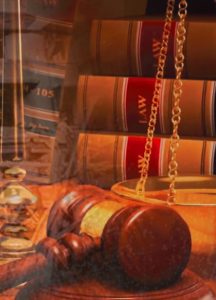 Of the six convicted by the special Terrorist and Disruptive Activities (Prevention) Act court on June 16, Taher Merchant and Feroz Abdul Rashid Khan were sentenced to death; Salem and Karimullah Khan were handed concurrent life sentences on two separate counts each; and, Riyaz Siddiqui got 10 years' imprisonment. Mustafa Dossa died less than a fortnight after the conviction four months ago.
The CBI had sought death sentences for Feroz, Merchant and Karimullah while seeking life for Salem and Siddiqui.
All the seven accused were facing multiple charges, which included criminal conspiracy, waging war against the state and murder. The accused said they will be filing appeals against the order before the Supreme Court.
A relative of Taher Merchant said the family would file an appeal at the earliest. Legal representatives of Salem said the life sentence is in violation of the extradition treaty with Portugal and that they would file an appeal in the European Union.
The CBI had argued that though Salem's role was that of one of the "main conspirators", he should not be given the death sentence as it would be against the provisions of the Indian Extradition Act.
In the 2,164-page judgment, Special Judge G A Sanap observed that Merchant by remaining in Dubai had deprived the investigating agency of necessary assistance. In June, while convicting Merchant, the court had called him a "main conspirator" who in the initial part of the conspiracy worked  with "the brain" behind the blasts, Tiger Memon.
The court further said that he had been part of several conspiratorial meetings held in Dubai and had also arranged for the entry of several co-accused to Pakistan for training in arms and ammunition.
On granting Karimullah life imprisonment while giving Feroz death, the court said that there can be no comparison in their roles. "Feroz comes from a well-educated family. His father was a petty officer in the Indian Navy. So the role of the two is not comparable. Karimullah hails from a lower strata, with no educational background… Feroz was a partner with the Dossa brothers," the court said.
"Offences and offenders of terrorism need to be dealt with sternly. Further generations need to be saved from the menace of terrorism. A lenient view in such cases can weaken the fight and collect efforts to combat terrorism," the court said.
On RDX and arms brought to Mumbai for the attack, the court observed that the offenders had knowledge of the offence.
"It is necessary to mention that RDX cannot be used as a powder to kill mosquitoes and flies and it cannot be assumed that AK 56 rifles were being distributed in schools in Bombay as toys," the court said.
The court also observed that it is necessary to note that the conspirators and perpetrators of the crime rejoiced at the success of the crime.
Judge Sanap had in June observed that Feroz was "a prominent member" of the Dossa gang and was "actively involved" in smuggling the arms and ammunition to India. The court had also refused to accept Feroz's defence that his was a case of mistaken identity and that he was a man named Hamza.
The special court also said that the fine amount levied on the accused was "meagre" and "inadequate" for victims. It has directed the District Legal Services Authority to recommend adequate compensation.
It has also directed the SP (CBI) to trace injured and disabled victims as well as kin of the deceased victims  who  are  not  included  in the list submitted earlier by the CBI. The CBI had submitted a list naming 232 dead and 613 injured.
On September 7, the convicts spent a long day in court, being escorted back to prison only at 11 pm after copies of the judgment were given to them.
On March 12, 1993, 12 devices exploded across Mumbai between1.30 pm and 3.40 pm, the first at Bombay Stock Exchange followed by the rest at Katha Bazaar, Lucky Petrol Pump near Sena Bhavan in Dadar, opposite the passport office near Century Bazaar in Worli, the fishermen's colony in Mahim, the basement of the Air India building in Nariman Point, Zaveri Bazaar, Hotel Sea Rock in Bandra, Plaza Cinema in Dadar and Centaur Hotel in Juhu.
The CBI claimed that the blasts were planned and executed in retaliation for the Babri Masjid demolition in Ayodhya in December 1992 and the subsequent communal violence in Mumbai.
How Is Sanjay Dutt Involved?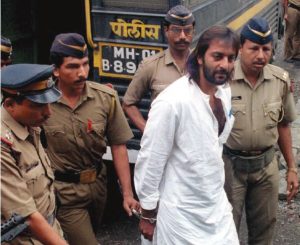 During the probe, the police discovered that Anees Ibrahim had given AK-56s to actor Sanjay Dutt. They claimed they found phone   records   showing   regular communication   between    the two, especially calls made from Dutt's house to Dawood's Dubai residence, ironically called the 'White House'. Accused Abu Salem and Riyaz Siddiqui, confessed to delivering one of the many smuggled consignments to Dutt's house.
No marriage for Salem
The special  court  disposed  of the application of Abu Salem seeking permission to marry. The application was filed by a Mumbra- based woman after reports claimed that the  gangster  had  married her on board a train  while being escorted for a hearing. The court observed that the application should  be  disposed of since it is "infructuous". The court also rejected Salem's application seeking to be transferred to a prison outside Maharashtra, preferably Uttar Pradesh, on the same grounds.Death Sentence:
1.  Parvez Nasir Ahmed Shaikh: Planted bomb at Katha Bazar, Sea Rock Hotel
2. Mustaq Tarani: Planted bomb at Juhu Centaur
3. Abdul Gani Turk: Planted bomb at Century Bazar
4. Asgar Mukadam: Planted bomb at Plaza theatre
5. Shahnawaz  Qureshi:  planted bomb at Plaza theatre
6. Mohd Shoaib Ghansar: Planted bomb at Zaveri Bazar
7. Mohd Iqbal Mohd Yusuf Shaikh: Planted bomb at Naigaon
8. Zakir Hussain: Lobbedgrenade at Mahim
9. Abdul Akhtar Khan: Lobbedgrenade at Mahim
10. Firoz  Amani  Malik:  Lobbedgrenade at Mahim
11. Mohd Farooq Pawle: Bombed Air-India, Lucky Petrol pump and  did recee of the Bombay Stock Exchange
12.  Yakub Memon: Conspiracy, financing and aiding and facilitating terror act.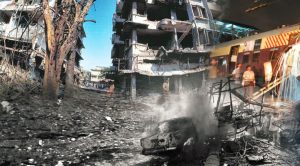 Most of them had appealed to the Supreme Court again the death sentence. The apex court had confirmed the death sentence for Yakub Memon, but commuted the sentences of other convicts to life imprisonment.
Life Imprisonment:
Dawood Phanse: Shekadi landing, Dubai meeting with Dawood, Tiger
VK Patil: Ex-Sub Inspector of Srivardhan police station
Niyaz Ahmed: Conspiracy, reconnaissance of BMC building before the blasts
Nasir Dhakla: Cconspiracy, bomb preparation
Muzammil Umar Kadri: Smuggling/transportation
Ashrafur Rehman Shaikh: Found with 85 grenades, 350 detonators and rounds
Zamir Sayed Ismail Kadri: Concealing initiating device/ conspiracy to an extent
Parvez Qureshi: Conspiracy, presence in Al-Husseini during RDX-filling
Salim Mira Shaikh: Dighi landing, bribing police and customs officials
Sardar Shahavali Khan: Conspiracy, Al-Husseini, recee of BMC, Tiger's guard
Shaikh Ali Shaikh Umer: Conspiracy, BMC recce, presence in Maruti van
Salim Rahim Shaikh: Driver of Mahim vehicle, Pakistan training, bomb-filling
Imtiyaz Gavate: Shekhadi landing, planting scooter at Dhanji street
Nasim Bharmare: Pakistan training, bomb-making, throwing grenade at airport
Somnath Thapa: Conspiracy, facilitating landing for Dawood, Tiger and Dossa
Bashir Khairula: Conspiracy, part of team that hurled grenade at Mahim
Moin Qureshi: Lobbed grenade at Mahim
Rubina Memon: Allowed her flat, garage and vehicle to be used
Yusuf Memon: Allowed his flat, garage to be used
Essa Memon: Allowed his flat, garage to be used
14-year sentence:
Sharif Parkar: Shekhadi landing, Dawood Phanse's deputy
Uttam Potdar: Bribing customs and police officials, Persian Durbar meet
Manojkumar Gupta: Shekhadi landing, possession of weapons
13-year sentence:
Farooq Ilyas Motorwala: Sending approver to Pakistan, visiting Dubai
10-year sentence:
Shahid Qureshi: Shekhadi landing, close Tiger aide
Shaikh Mond Ethesham: Shekhadi landing, Ejaz Pathan aide
Shahnawaz Khan: Visited Dubai, helped Tiger in smuggling
Khalil Ahmed Sayed Ali Nasir: Smuggling/transportation
Mohd Kasam Lajpuria alias Mechanic Chacha: Landing agent
Issaq Mohammed Hajwani: Showed site for training to Tiger in Sanderi
Ayub Patel: Found with 20 grenades
Mansoor Ahmed Sayyed Ahmed: Went to Sanjay Dutt's house with Abu Salem
Altaf Ali Shaikh: Possession of 85 hand-grenades given by Yakub Memon
Ibrahim alias Baba Musa Chouhan: Supplied weapons to Sanjay, Salim Kurla
Ejaz Pathan: Dubai meeting, possession of AK-56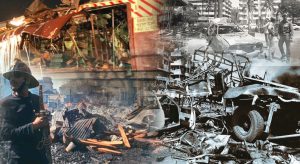 Nine-year sentence:
Sarfaraz Phanse: Shekhadi landing, Phanse's son
Tulsiram Surve: Wangani tower watchman
Samir Hingora: Organising AK-56 for Sanjay Dutt
RK Singh: Ex-customs official, Persian Durbar meet
Eight-year sentence
Gulam Hafiz Shaikh alias Baba: Driver/transportation
Jayant Gurav: Ex-Customs official
SS Talavadekar: Ex-Customs official
Asis Yusuf Shaikh: Four hand grenades found in his possession
 Seven-year sentence
Mohd Rafique Usman Skaikh: Pakistan training, conspiracy meeting
Suleman Gawate: Arms landing/driver
Sajjad Alam: Rickshaw driver who transported explosives
Sayyed Abdul Rehman Shaikh: Driver involved in transportation of explosives
Raju Jain: Providing jeeps to Tiger Memon
Mohd Rafique Biyariwala: Transportation, Tiger's former driver
Mohammed Sultan Sayed: Ex- Customs official
Six-year sentence:
SY Pashilkar: Police constable
RD Mali: Police constable
PM Mahadik: Police constable
AN Muneshwar: Police constable
Gul Mohammed Noor Mohd Shaikh: Pakistan training
Mohd Hanif Usman Shaikh: Pakistan training
Mohd Saeed Mohd Ishaq: Pakistan training
Usman Man Khan Shaikh: Pakistan training
Abdul Aziz Gharatkar: Arms landing, aide of Phanse
Mohd Yunus Rasool Botomiya: Found with AK magazines/cartridges
Janardhan Gambas: Helped Uttam Potdar, landing agent
Abdullah Ibrahim Surti: Helped in concealment
Faki Ali Faki Ahmed Subedar: Helped in concealment
Mohd Dawood Khan: Three AK-56/nine magazines
Sanjay Dutt: Illegal possession of 9-mm pistol, AK-56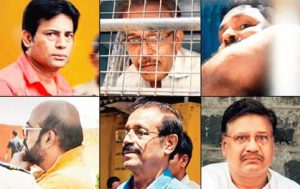 Five-year sentence:
Yusuf Khan alias Kayyum Khan: Shekhadi landing/ transportation
Shahnawaz Hajwani: Sanderi training
Sikandar Hajwani: Sanderi training
Ayub Qureshi: Found with pistol/52 rounds
Sayyed Mujju Kadri: Role in Shekhadi landing
Mujib Parkar: Landing, Sharif Parkar's son
Ehsan Mohd Zufel Qureshi: Found with Mouser pistol
Salim Durrani: AK-56 possession
Aziz Ahamed Shaikh: Found with US-made carbine
Liyakat Ali Khan: Allowed RDX to be stored in father's godown
Noor Mohd Khan: Disposal of RDX in Nagla bunder
Mulchand Shah: Hawala operator, channelised funds
Mubina Bhiwandiwala: Conspiracy meeting held at her Bandra residence
Zaibunissa Qazi: Weapons that Sanjay returned kept at her residence
Yusuf Nulwala: Sanjay's friend, took AK-56 from his residence for destroying
Three-year sentence:
Yashwant Boinkar: Gave boat for landing
Abbas Shaikhdhare: Gave boat for landing
Shahjehan Shaikhdhare: Gave boat for landing
Rashid Alware: Contraband transportation
Sharif Adhikar: Shekhadi landing
Two-year sentence:
Kersi Adajenia – Foundry used to destroy AK-56 possessed by Sanjay
Probation granted:
Rusi Mulla – Part of Sanjay Dutt group
Acquitted:
Suleiman Memon (Tiger Memon's brother)
Hanifa Memon (Tiger Memon's mother)
Raheen Memon (Yakub Memon's wife)
Asfaq Havaldar
Krishna Mokal (constable)
Krishna Pingle (constable)
Manohar More (constable)
Mansoor Qureshi
Shaikh Kasam Babulal
Sultan-e-Rome Sardar Ali Gul
Mohammed Iqbal Ibrahim
Abdul Aziz Abdul Kadar
Ruksana Jariwala
Mohammed Ahmed Mansoor
Moiuddin Cheruvatam
Ismail Patel
Anant Shakaram Bhoir
Shakeel Shahabuddin Shaikh
Devidas Keshav Ghule
Sayed Ismail Qadri
Fasal Rehman Shaikh
Murad Ibrahim Khan (builder)
Ajay Marwah (Sanjay Dutt's friend)
Absconding accused:
Dawood Ibrahim Kaskar
Mushtaq alias Ibrahim alias Tiger Memon
Ayub Memon (Tiger's brother)
Anees Ibrahim Kaskar (Dawood's brother)
Shabana Memon (Tiger's Wife)
Reshma Memon (Ayub's wife)
Javed alias Javed Chikna Dawood Tailor
Anwar Theba
Mohd Shafi Memon alias Jariwala
Mohd Phansopkar alias Salim Mujahid
Yakub Khan alias Yeda Yakub
Irhan Ahmed Chaughule
Khan Bashir Ahmed
Mohammed Dossa (Mustafa Dossa's brother)
Munaf Halari
Nasir Ahmed Shaikh alias Babloo
Abdul Rahid Mohd Khan
Kamarbhai
Latif Noor Mohd alias Latif Bhagwala
Mohd Liyaqat Khan
Mobin
Shabbir Sayyed Ismail Kadri
Shamshad
Salim Abdul Ghani Gazi
Moahd Farooq
Taufique Jariwala
Sayyed Arif.